Heat Up Sales Cold Calls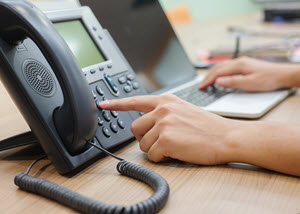 Whenever I think of sales, I think of the stereotypical salesperson talking on the phone in a loud bustling office rattling off catchy opening lines and delivering convincing sales pitches. Films like Glengarry Glen Ross, Boiler Room and The Wolf of Wall Street depict the cunning salesperson mastering their craft. But what these films don't show is all the time spent behind scenes just getting the customer on the phone.
After all, when have you seen the star actor calling and getting a busy signal or voicemail? In reality, the average salesperson has to make numerous calls just to reach someone on the other end. This means picking up the phone, dialing one number after another and listening to the phone ring for what seems like an eternity before hanging up and dialing the next prospect. Most calls either go unanswered or straight to voicemail. This mind-numbing, inefficient and at times downright frustrating process, truly puts the COLD in cold calling. Most of the time is spent waiting rather than talking. And as you make call after call, you get further away from making that great first impression and more importantly making money for you and your company.
Luckily, modern technology can help solve this problem – and not just for sales representatives working at large companies. Cloud communications and web technologies now make it easy and affordable for companies and sales teams of all sizes to pick and choose what's best to meet their customer engagement needs. Cloud-based communications tools found in modern contact center solutions can help sales individuals and sales teams close more sales, improve customer interactions and achieve higher levels of productivity. The right cloud-based contact center solution can deliver a number of benefits that could boost the company's bottom line.
What to look for in a Cloud Contact Center
1. Automated Outbound Calling
Sales and marketing organizations should look for cloud communications technologies that make calling customers smarter, easier and more productive. Automating the outbound dialing process enables your sales team to connect to a new prospect seconds after finishing a previous call by dialing ahead and removing answering machines and inactive lines in advance. This keeps your sales team productive, reduces inactive periods, and maximizes talk time.
2. Insights into Your Performance
Any good salesperson or sales manager understands the importance of improving their performance. Having the ability to monitor and track performance is vital to the success of any sales team. To ensure that success, make sure the data is clear, understandable and timely so you can spot calling trends and take action.
3. Customer Information at their Fingertips
Having all the facts about every sales call can make the difference between success and failure. Knowing is truly half the battle. The ability to have customer information at the sales team's fingertips cannot be overlooked. That is why integration with customer management systems like Salesforce and Zendesk with your cloud-based sales communications solution can help make your sales team more efficient and provide a great customer experience. Integration allows your sales team to make or take calls from the system and sync all the data so customer information is always up-to-date and available.
Best of all, cloud communications solutions can empower your sales and offer the flexibility your business needs. Web-based technologies make setup easy to get your sales rep started and dialing customers in minutes. Moreover, with a pay-as-you-go model, there are no connection fees, hidden costs or long-term commitments, giving you the ability to adjust for seasonality or ebbs and flows in your business.
While the quintessential salesperson lives by the mantra ABC or "Always Be Closing," it's difficult for them to follow that creed when they constantly need to endure the process of dialing each lead one by one, missing out on countless opportunities and potential customers. But modern cloud-based contact center solutions now offer the communications tools that can help you heat up your sales teams and make cold calling a lot easier. For more information, see how cloud communications and contact centers can help your business gain greater contact with customers and prospects.