Get Your Emerging Business Noticed In Big Ways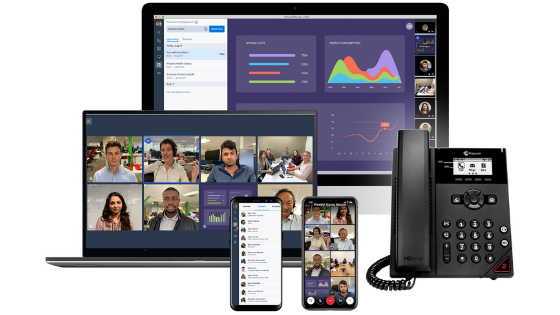 Introducing 8x8 Express, a complete business phone system that takes just minutes to set up.
If you're a smaller organization that wants to get noticed in a big way, you're not alone. Today's hyper-competitive and globally-connected economies create exciting and challenging opportunities for entrepreneurs. The artisan in rural Maine can sell their products to anyone, anywhere. The marketing consultant in Seattle can easily support clients halfway around the globe. The three-person startup in Austin can stand apart from and disrupt their legacy competitors. There's tremendous potential for these passionate people with amazing ideas and quality products to succeed but that can't happen if they don't get noticed in the first place.
At 8x8, we've worked with smaller businesses for over 25 years and understand their challenges. We know that the recipe for success isn't just about having a brilliant idea, an incredible work ethic, or even vast financial resources. Emerging organizations need to be agile with their decisions; they need to match or beat their competition in terms of customer accessibility and convenience; they need to leverage systems and deploy processes that make work happen easier and faster.
Smaller businesses and independent workers need to strike the fine balance of presenting themselves in a way that is polished and professional but doesn't exhaust their finances. That's easier said than done and more often than not results in compromising on quality or cost. We're tired of seeing entrepreneurs, emerging organizations, and consultants settle for less than they deserve which is why we are launching 8x8 Express, a complete business phone system that takes just minutes to set up.
We get it! Businesses need a solution that is cost-effective, easy to use, and can be purchased and activated within minutes. We've built Express to include voice, video, and chat in one application, handling all of your communications needs, at just $12 per user month.
Gain an edge
One of the most envy-inducing moments in an emerging business owner's life is discovering tools or technologies that large corporations can use thanks to large corporation budgets. With 8x8 Express, you can run your business with confidence knowing that you get the same communication tools used by large enterprises. You can create a new business phone number or port your existing one, as well as use high-definition audio & video conferencing and team messaging to engage both customers and employees. 8x8 Express gives your business the following:
Unlimited calling in the U.S. and Canada
Call handling including call forwarding, auto attendant and ring groups
Voicemail
HD voice and video meetings
Instant screen sharing
Business messaging including SMS, one-on-one and group chat with file sharing
Get connected instantly
Whether you're on your own or leading a small team, we know that you're busy and have plenty of more important things to do than play phone tag with a salesperson or wait days for someone to manually activate your account. We created 8x8 Express to be ready to use as soon as you activate your account. You can add users and change settings whenever it's needed. Here are a few other features you will enjoy:
Add new lines and users with a few clicks
Port existing business phone numbers to 8x8
Self-administered management tool
One mobile app for calling, texting, voice and video meetings on an iOS or Android device
Integrations with GSuite/Google Calendar and Office 365/Outlook calendar\
Try for free
But wait, there's more. Your first 30 days are on us. We believe that 8x8 Express is going to make a huge difference in your business and that you'll be empowered with the tools and features that will finally give you the professional business identity and quality customer experience that you've been wanting.
Ready to get started with your free 30 days? Click here!