Gen Z Is About to Change the Way Your Business Collaborates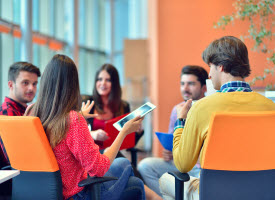 Not long ago, discussions around the future of work primarily centered on millennials. While some employers are still learning to adapt to the Millennial in the workplace, they have a new generation to prepare for: Gen Z, those born between 1996 and 2010.
We are in the midst of graduation season, which means another wave of Gen Zers will be entering the workforce. As a member of Generation Z, my generation's preferences and interests in the workplace differ from those of our Millennial predecessors. Employers should begin understanding our habits and characteristics as my generation is unique and will quickly impact the workforce within the next five years.
A survey commissioned by 8x8 last winter found that my generation's preferences are going to make a significant impact on workplace communications and collaboration. Ultimately, the survey reveals that Gen Z values effective communication over convenience, unlike millennials. This mirrors my personal opinion on the value of communication. Effective communication should not have to be compromised for convenience. These findings mean that my generation will put a heavier emphasis on personal interactions and collaboration. While remote work and flexible hours will be important, the results indicate that Gen Z also highly values a physical office space and collaboration tools. As we begin to enter the workforce, employers will need to evaluate all of the tools they use to ensure they are increasing job effectiveness.
With remote work on the rise, it's time for business communications to recognize Gen Z's desire for in-person and collaborative communications. A recent survey of business leaders at the Global Leadership Summit in London found that 34% said that more than half their company's full-time workforce would be working remotely by 2020. Collaborative practices will need to become a priority in the workplace through telephony, messaging, presence and video. In fact, according to a recent report by Randstad, Gen Z will find video conferencing to be the least distracting technology for getting work done and names collaboration tools, especially through social media, as the best way to engage at work.
To address the need for effective collaboration, businesses are beginning to implement engaging collaboration tools. However, this proliferation of tools, which are meant to exchange knowledge and data easily, is creating an increasingly complex world of collaboration. Learn first-hand how businesses can reevaluate their communications and collaboration tools to better connect employees, customers and apps in this webinar.