Game Changer: Why Enterprises Are Choosing Hosted VoIP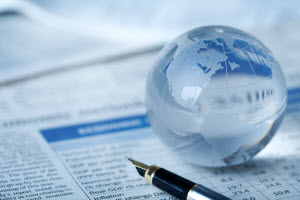 Why would thriving, successful enterprises—with the resources to afford any of a number of solutions—choose Hosted VoIP?
Everyone understands why small companies have flocked to cloud-based hosted VoIP services such as 8x8 since they first became widely available. Unlike premises-based PBXs or last-century model phone services, it's inexpensive, easy to manage, and expands almost instantly to fit any need.
But why would a large, growing business that could afford a variety of solutions choose to base its communications on Voice over Internet Protocol, a.k.a. "Internet Phone Service?"
There's growing evidence that even large enterprises are at the beginning of large-scale VoIP adoption, with some researchers even forecasting greater growth in hosted VoIP adoption in enterprises than in small and medium businesses (SMBs). For example, Infonetics' recent VoIP and UC Services and Subscribers report shows that in the first six months of 2013, enterprise investment in hosted PBXs and unified communications showed the highest level of growth compared to other VoIP services. Infonetics analysts say this is "largely the result of businesses, especially large enterprises, moving to hosted services as alternatives to on-premises solutions."
Enterprise Hosted VoIP: A Growing Trend in Unified Communications
From 2012 to 2017, Infonetics predicts that the revenue for worldwide business VoIP services will grow at a seven percent CAGR (compound annual growth rate), while predicting only a three percent CAGR in revenues for residential/SOHO (small office and home office) VoIP services.
"Growth is being fueled by business services such as cloud unified communications and SIP trunking, which continue to expand and find broader adoption with enterprises of all sizes," says Diane Myers, principal analyst for VoIP, UC and IMS at Infonetics Research.
Top Reasons Why Enterprises Adopt Hosted VoIP for Unified Communications
Increasingly, mid-range and large businesses are looking to cloud-based unified communications as a service (UCaaS). The reasons they typically give vary by company, but most of them want ONE system to unite workers through a single set of communication and collaboration tools that:
Save money
Expand rapidly to capture new opportunities and open new offices
Reduce management headaches
Give companies a host of new features
Scale from phone, virtual fax, desktop, videoconferencing and web conferencing systems, up to full-blown customer communications/call center tools
Achieve business continuity under adverse conditions
Integrate with NetSuite, Salesforce and other CRM offerings
Connect mobile workers
In upcoming blogs, we'll look at a variety of reasons why enterprises are turning to hosted VoIP systems to unify their communications and collaboration systems. Today we're focusing on the first of these: the money that businesses save when they expand operations with hosted VoIP.
Cloud-based Unified Communications Fight Fragmentation, Achieve Six-Figure Cost Savings
Some people might be surprised that even midsized and large companies choosing hosted VoIP systems often mention money, in addition to the related issues of ease of establishing new locations and integration. That's because even large enterprises are under pressure to save money.
Doesn't Take a Spreadsheet to Understand Savings from Hosted VoIP
And if you take the price of, say, an on-premises PBX—typically tens of thousands of dollars to install, with continuing maintenance costs—and multiply it times a dozen or perhaps hundreds of locations, it doesn't take a spreadsheet to understand why a company would fear spending that kind of money on systems that only handle phones and don't integrate with its computer technology.
The more spread out the company, the more expensive the problem.
Hosted VoIP Phone Service Fights Fragmentation Problems
That's precisely why Irving Materials, Inc., the largest privately held construction company in the US, has unified its 150+ locations with 8x8 Virtual Office hosted VoIP unified communications for its expanding business.
"The more locations we opened up, the more fragmented we became, leading to diminished communication and productivity," says Irving Materials Vice President of Information Technology, Jerry Howard. "With our hosted VoIP Virtual Office solution, all of our offices will be connected under a single, cloud-based phone system at a fraction of what we were spending previously."
According to Howard, Irving Materials expects to cut its previous telecommunications expense by 60 percent or more, which will result in six-figure cost savings each year—and many other enterprise companies reporting similar huge cost cuts. The company's 8x8 cloud-based solution will also enable Irving to do away with other devices, such as call recording equipment, in addition to on-site PBX hardware for each location.
Cloud-based Unified Communications Help Incubate International Business
Interestingly, global expansion—which is often associated with larger companies—also drives companies to adopt cloud-based unified communications.
"We are an investment banking firm that incubates businesses. 8x8 allows us to have remote offices in multiple countries and tie them all in as an extension," says Sam Senev, CEO of Global Private Funding.
"Each of the offices are able to communicate with their US clients and have a US presence even from overseas. We are expanding our service contract to include overseas numbers. Sam Senev, CEO of Global Private Funding."
Some Larger Companies Have Now 'Grown Up' With Cloud-based VoIP
Also, now that hosted VoIP business phone service has been around since the early 2000s, companies are increasingly growing up with VoIP-based unified communications. Typical of these early adopters is Connected Fibers.
"I started Connected Fibers with my business partner in 2005 and we were both working from our respective home offices," says Adam P. Geraci.
"Having 8x8 hosted VoIP was invaluable to our business operations by streamlining communications and allowing customers to call into a centralized and automated phone system," he says. "The system gave our customers a highly professional and polished impression of our business and allowed us to manage calls and voice mail effectively, thus providing a better customer experience."
'Flexible, Intelligent Systems Are Just as Relevant' When Companies Get Big
Companies never outgrow the need for smart business phone service and other unified communications services that can turn on a dime—no matter how big they get.
"Today we are an ISO 9001 registered company with an 11,000-sq.-ft., state-of-the-art manufacturing and warehouse facility, and we're continuing to rapidly grow the business," says Geraci. "The benefits of having a flexible and intelligent system are just as relevant today, especially now that we have multiple satellite offices. Our company's philosophy is to always use the best technology for the most productive and efficient business.  Hosted VoIP is absolutely the technology for any new or growing business."