Five Tips for Connected, Collaborative Virtual Teams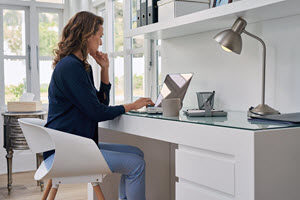 I've been working virtually on remote distributed teams for most of my career. My teams have spanned all time zones, cultures and geographies.
While this way of working can be very beneficial and productive, it also presents some new challenges such as physical distance, missing out on face-to-face serendipitous conversations, and effectively establishing trust across the team.
There are some key ways to address these challenges by enhancing and creating a cadence of responsive, productive communication and collaboration with your team. In my role as a remote worker, for example, using communication and collaboration tools that show my presence status, let me engage and interact quickly as if I'm face-to-face. As a result, my physical location doesn't matter.
Here are five tips to transform your virtual team from good to great.
1: Commit to Communication 'House Rules'
In today's busy, always-on world, time is a valuable asset and setting boundaries is a necessity. Communication on virtual teams can be as rich as in-person interactions with the right behavioral engagement guidelines. House rules, when established and used properly, can set the right tone and proper context for respectful, positive team engagement.  
For virtual meetings, house rules might include requiring meeting agendas with expected outcomes, limiting side conversations, going on mute, staying attentive and avoiding multi-tasking. Teams working across different time zones might also consider equalizing the time-zone burden when possible and establishing a rotation of meeting times.
2: Be Mindful of the Medium
Do you like receiving a text at 4 am from out-of-country colleagues? Me, neither. So it's helpful to establish clear expectations for use of different communications tools. For instance, certain communication methods imply urgency but may differ across geographies and cultures. It's important to agree on which communication modes work best for your virtual team and under what circumstances.
Agree on when you should send a message via email versus picking up the phone, sending a text, or using chat. Understanding this may help avoid information overload and make it easier for the team to better prioritize.
3: Sharing = Caring
Building a network of open, interpersonal trust happens when co-workers can develop understanding and empathy for their fellow team members roles, challenges, successes, passions, and interests. In-office employees often share casual conversation at the coffee station or chat on their way to a meeting. That kind of communication doesn't happen as easily when you're miles apart. Building rapport with virtual colleagues needs to be intentional to create those connections that are typically present in an in-office environment.
Perhaps take a few moments at the beginning of each meeting or conversation to create a "virtual water cooler," allowing time to share socially, express gratitude, and set a tone of inclusion. It's important to create a space to connect on a more personal level and throughout the meeting to ensure all participants on the call have a voice. Also, virtual teammates may then better understand each other's communication styles, how they process information, and how they perceive their role on the team. The trust and openness required for team cohesion and collaboration is built on these small conversations and proactive engagements.  
4: Invest in Great Tools
Good communication begins with great technology. Technology is the lifeblood of a virtual team. In fact, there's no shortage of available productivity cloud offerings to ensure smooth, efficient workflow. Documents, presentations, and spreadsheets can be created and shared using cloud workspaces from companies such as Zoho Docs, Open Office, or Office 365. File storage is essential with ample options available from storage platforms such as Google Drive, Box, or Dropbox.
Scheduling meetings across the country to allow for different time zones or work shifts can be challenging. But it doesn't have to be. Check out an online meeting planner or maintain a central team calendar with easy sharing options such as iCloud, TeamWeek, or Google calendar.
And this is especially important. Every virtual team member needs a high-quality headset to optimize their audio experience. Make sure your selected headset includes noise cancellation to filter out distractions from ambient noise and allows for clear, ungarbled sound. This is critical while participating on conference calls. The workday will be much more pleasant as your headset provides crisp sound as you listen to music via Spotify or Pandora as you glean the latest business info from your favorite podcast.
5: Don't Forget Your Voice
Your virtual team is complete with 8x8 Virtual Office, a comprehensive business communications system. It provides the transparency you need in the office (regardless of where you are). It also seamlessly integrates your business phone or soft-client with voicemail, company directory, instant messaging, video calling, fax, call recording, and video conferencing. Add in presence status and you have a perfect collaboration toolset. While people may not see you physically, they can reach you quickly when they know you're available versus on a call or in a meeting.  
And my favorite feature of 8x8 Virtual Office is the dedicated mobile app, which lets team members quickly transition between the desk phone, softphone and mobile device. It's an amazing feature for working on the go–anytime, anywhere.