Five Productivity-Enhancing Apps You Didn't Know Existed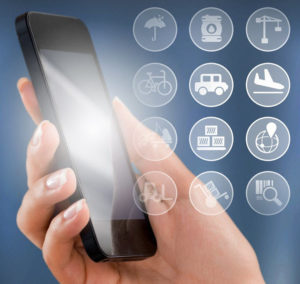 Today people are more connected than ever before. Since we're always accessible, whether physically in the office, working remotely on our laptops or staying connected on-the go, it's probably safe to assume that many of us have had to become power communicators – not to mention proficient multi-taskers – just to get through the day!  If you're not, you have likely noticed that your day and workload suffers. But even if you've become a rockstar multi-tasker, all of us could use time-saving tips to make our days even more productive and efficient.
Regardless of your role,whether you're in back-to-back meetings or always on your mobile, here's helpful tips with some cool apps to save you time during your crazed work day.
An Executive favorite! Great for the C-suite, but this tip is for anyone on the computer all day – which is pretty much all of us. Have you ever received a phone call and not recognized the caller ID? Or perhaps you recognize the name, but don't recall how you know the person? With 8x8's Click2Pop plug-in on your computer, every time you receive an incoming call, Click2Pop will actually search your choice of social media sites or even run a Google search to let you know exactly who is calling. For instance, you can set it up to search within LinkedIn, and the plug-in will present you with the profile page of the most relevant matches. This will save you the hassle of having to look up names or numbers separately, or could even help you avoid that awkward conversation opener we all have to ask at one time or another: "Sorry, how do we know each other?"
| | |
| --- | --- |
| | |
Receptionists, Dispatchers and Operators who use 8x8's Switchboard Pro solution can save time on call handling with these enhancements. The tool applies intelligence to serve up greetings and even auto-filters branch directories to instantly provide the right set of information needed based on branch, location or even department-specific number(s) the callers dial to reach your company. For example, let's say you're an operator who handles the routing of calls to two different office locations – support in San Jose and sales in Phoenix. When a customer calls your San Jose support number, you can see a scripted greeting specific to that location. In addition, Switchboard Pro can also automatically filter the directory to show only those contacts associated with that branch location.
Switchboard Pro is an add-on to 8x8's core Virtual Office service, and the above capabilities require some simple administrator configuration.

If you're going from one conference call to another, we've got a twofer for you!
First tip: Let's say you join a conference call while in your cubicle and you decide to move into a conference room for some additional privacy. You can actually park your active conversation and un-park it again on the conference room phone without needing to hang up on the other party. Just hit "Park" when you're at your desk, listen for the call park extension code, and when you arrive at your conference room destination, punch in the call park extension to un-park the call and continue the conversation.
Now for our second tip: If you're in conference calls all day and you prefer to have your Virtual Office Meetings web and video conference solution call you at whichever conference room you happen to be in, you can simply program all of your conference room numbers into Virtual Office. This way you'll never have to punch in a call-back number again! Simply go into your Virtual Office > Settings > My Profile and under My Phone Number(s), select [+ Add Phone Number] to add all of the phone numbers for your conference rooms.  In the example below, I've added the 8x8 conference rooms Yellowstone, Redwood and Wind Cave. Set it once and then…forget it.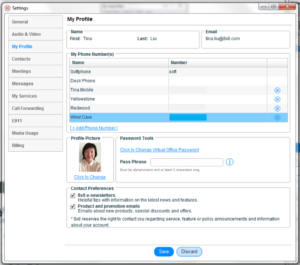 Sales roles – Account Executives, Account Managers, Inside Sales Reps, Lead Generators – who do most of their work in Salesforce.com, can take advantage of this time-saving enhancement to the pre-built Virtual Office integration within Salesforce. This is the ability to easily transfer calls from one rep to another. For instance, an inside sales rep who is on a call with a customer contact and qualifies the lead, can provide some context over instant message, and seamlessly transfer the call to the appropriate AE, all within one workflow and without needing to leave Salesforce. It's all about improving workflows and making it easier for sales to efficiently move leads through the pipeline.
And finally, if you're a mobile worker and communicate primarily on your cell phone, we've made improvements to the Virtual Office app for iOS and Android devices. These will help you save time searching for the right contacts within your corporate directory or even the right content within your message history.  When looking for contacts within a specific department in your company, simply type the department name into the search field and the results will be filtered as such.
In addition, you will be able to view the availability (aka Presence) of all of your colleagues when you're checking voicemail, call Logs, IM/SMS and even fax. For example, when you see a voicemail or missed call from a colleague, you can instantly tell if they are available for you to click to call them back.  Another productivity-enhancing feature in the iOS mobile app is the ability to search your IM and SMS history not only by contacts but by content as well. Let's say you forgot who you had the IM conversation with, but you remember the content. Not a problem! You can still easily locate your conversation history even when you're on the go.
As you can see…it's all about apps these days! There is truly an app for everything – to help us communicate better, stay informed, share content and boost productivity. If you are looking to improve your already enviable power communicator status, 8x8 has your back. For more information on the above apps and other features, check it out here.