Feds Send Educators Back to School to Get New E-Rate Funds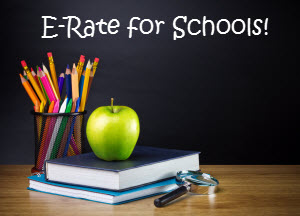 The Federal government handed educators a big pink "While You Were Out" memo in late July, with FCC authorization for additional money for schools to improve their communications and infrastructure.  The new rules may send many returning administrators back to the books to figure out how to get the deep discounts for phone, wireless and Internet service provided to K-12 schools and public libraries under the E-Rate program.
Many Educators are Caught Unaware of Savings
Beefing up reimbursement for Wi-Fi expenses, a major goal of the new rules, is generally seen as a positive step. But it's a sad fact that many school administrators are still not aware that they don't need to limp along with ancient, inadequate phone service that's costing them more to maintain than it's worth.
That's because E-Rate-eligible phone systems can not only cut monthly phone service rates, but provide better communications with their stakeholders. And, if educators pick wisely, they can get a system that works with all of the technology they're already using—desktops, laptops and smartphones.
Old-style PBXs and Wiring Closets Are Out—VoIP is In
These are just a few of the changes announced in July:
Reimbursement for voice services will be reduced each year, as will money for traditional PBXs, POTs Lines, equipment.
Funding will significantly increase for Internet access, Wi-Fi and broadband services.
Schools will be encouraged to sign up for hosted voice over Internet protocol (VoIP) phone services, because thanks to increased funding for Internet infrastructure, they will have more than sufficient bandwidth to handle both voice and data.
8x8 Can Help
8x8 has expertise in providing E-Rate-eligible phone service, and can help. In addition, the private agency that oversees E-Rate reimbursement, USAC, is offering training and workshops that cover the rules and explain how to apply. Applicants will learn helpful tips, discover best practices, important deadlines, and do's and don'ts of the program. Best of all, it is free!
Currently, a majority of the sessions are at registration capacity, but it's still a good idea to get on a waitlist in the event that spaces open up. Training outreach is available throughout the year, and subscribing to the USAC newsletters will keep you ahead of the game.
Objective Guidance is available
Also, USAC offers schools and libraries additional support with a program called HATS-Helping Applicants to Succeed. A USAC E-Rate specialist can provide one-on-one guidance that is tailored to address your needs. Best of all, you have several options on session setting, in person, video conference, or over the phone, all at no cost to you. In this personal consultation, you will learn all the best practices and processes to aid you and the institution in overall program success.   We all know how costly consulting fees can be, so why not seize this opportunity and schedule a visit? For more information on the USAC HATS program, call its Client Service Bureau (CSB) at (888) 203-8100.
Also, 8x8 is offering a new E-Rate webinar this October, to help people across the nation to understand the revised program and how their schools might benefit from it. Not attending this free webinar is like leaving school money on the table.
Everybody Wins, If Schools and Their Supporters Get This Info
To me, it seems like such a shame that so many schools and libraries are missing out on the funds they need to modernize their schools, communicate better, and improve service to the parents and kids they serve. If you know of a school that could use E-Rate help, please do them a service and pass this information along to its administrators, parents, and concerned organizations such as PTA groups. Don't let them miss the critical changes that happened "while they were out" on summer break.