Enterprise-Grade: Marketing Fluff or Deal Winner?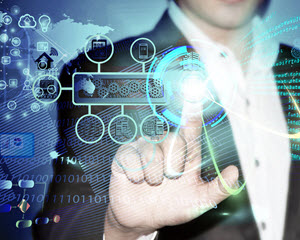 Let's talk about what it means to be enterprise-grade. Is it a massive feat or simply a marketing phrase that tech companies slap on to show that a solution is fit for business? At 8x8, we know better—and so do our customers! We know that not all companies in the cloud communications arena can actually claim enterprise-grade as part of their arsenal and that being truly enterprise-grade is a win for customers of all sizes. That philosophy is why we take this achievement very seriously and ensure it's at the core of our product development and service offerings.
There are standard elements that all enterprise solutions should support as part of their formula, but here's how you can spot when a company goes beyond the standard industry offerings and truly makes the "grade."
A Unique Way to Achieve True Global Reach
To start, Enterprise Communications as-a-Service (ECaaS) solutions have to be able to deliver service anywhere across the globe. And that service has to have the same level of quality regardless of whether people are communicating from within the same building or are calling across continents. 8x8 has patented its innovative Global Reach® geo-routing algorithms to ensure that communications are delivered around the world as efficiently as possible, with the lowest latency and lag time.
In order to accomplish this, 8x8 does what no other cloud communications vendor does. Most hosted VoIP solutions route signaling and media data through the same data center, regardless of where a caller is located when their call is initiated. Consider how Skype for Business works. Let's say a U.S.-based employee is traveling in China for work and needs to make a call to a local business. Their call would need to be routed all the way back through their "home" data center in the U.S. first, even though both the caller and the destination of the call are in China! Having to have your call data travel that extra distance can lead to call delays, latency and jitter.
8x8 takes a much more practical, innovative approach to ensure call quality. When an 8x8 user makes a call, our patented geo-routing technology is intelligent enough to a) recognize the current location of the caller and b) seek out the closest data center. So, when an U.S.-based 8x8 user is traveling in China and makes that same call to a local business, the call data will instead be routed through the nearest data center rather than having to make that wasted trip back through their "home" data center in the U.S.

Start with Security and Compliance at the Core
Needless to say, any enterprise-grade solution has to meet rigorous security and compliance requirements. And that has to be a top priority with every product—not just a one-off, isolated case.
Not only does the focus on security and compliance have to be incorporated into a company's business practice, but it has to be built into the first stage of product development—from coding to security stress testing. Additionally, the leadership team needs to ensure that security is fundamentally built into the very fabric of a company.
While many unified communications solutions can be implemented in a compliant manner, it is often incumbent on the customer to ensure their compliance. 8x8's solutions stand apart from the rest of the industry by providing third-party, validated compliance to a wide range of standards that span private and public sector industries.
Here are the highlights:
HIPAA: Unlike most vendors, 8x8's HIPAA compliance has been third-party verified with written documentation and support. 8x8 is also able to provide valid Business Associate Agreements (BAAs) for all types of HIPAA customers.
FISMA: 8x8 is the only cloud-based unified communications provider to offer third-party verification of its compliance with FISMA, a U.S. federal security standard and one of the most rigorous security standards in the world.
U.K. Government Authority to Operate: 8x8 U.K. has been granted an Authority to Operate (ATO) and is approved to supply systems to Her Majesty's secure government agencies.
U.K. Government G-Cloud: G-Cloud is an initiative to ease U.K. public sector procurement of cloud technology. 8x8 U.K. has been accepted on G-Cloud.
Back-Office Integrations
When was the last time an enterprise-grade solution was built to stand alone? These days, business has to run at customer speed, and that means faster than ever, without down time or interruption. All solutions for the enterprise have to be able to integrate with existing third-party tools so that users never suffer productivity issues.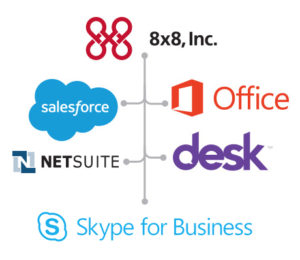 8x8 uniquely provides out-of-the-box integration with the most popular CRM tools such as Salesforce, NetSuite and Zendesk. Customers can take advantage of click-to-call features and customer record screen pops within the tools they already use, without the need for costly professional services engagements.
8x8's pre-built integrations extend to the importing of Google contacts, Microsoft Outlook and Skype for Business (Lync) to help boost customer service, increase productivity, reduce costs and extend a company's competitive advantage.

Elite-Touch Deployment and Support
It's not enough to just provide the technology. Enterprise-grade communications offerings must be able to deliver support for global implementations, from solution design to deployment to end-user training and ongoing support. 8x8's renowned Elite Touch™ is a rapid enterprise deployment and on-boarding program, and has been pivotal in a number of recent enterprise customer wins, including 8x8's NetSuite deployment. Elite Touch is based on best practices and extensive experience from over 40,000 implementations and is key in accelerating successful enterprise deployment, from kick-off through post-deployment support. And our proven methodology helps ensure the fastest time to value—even for customers with large, complex requirements that typically involve multiple sites, global implementations or integration with CRM or other critical back-end systems.
Learn more about the other four other critical elements needed to build enterprise-grade communications by downloading our new whitepaper, The 8 Criteria for Enterprise-Grade Communications as a Service.