Enterprise Connect: Where the Smart Money Takes to the Cloud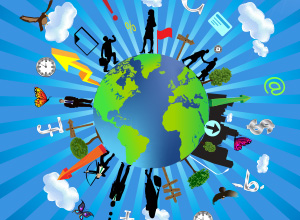 If Enterprise Connect attendance is an accurate indicator, cloud-based applications might be moving into larger and more risk-averse enterprises, such as finance. Statistics aren't yet available for this year, but last year, almost a quarter (24.6 percent) of the attendees of the premier enterprise show—which focuses primarily on communications and collaboration in large businesses—are in finance, with another 11.5 percent in healthcare.
Moreover, almost half of the attendees (48.1 percent) of the 4,800 non-exhibitor attendees were enterprises of more than 5,000 employees last year, according to the show's organizers, and judging from the opening of EC 2015, interest in the cloud continues to be intense this year.
Unifying Companies Worldwide is a Big Priority
That's because being able to connect and collaborate across the world, securely and conveniently, is one of the most important and difficult-to-solve problems that these companies face. And the stakes are high; for financial companies, fortunes are involved, and of course in health care, lives are at stake. These companies therefore have a strong interest in flawless communication and collaboration to manage money and save patients, respectively.
Economics Play a Role, Too
Financial companies, in particular, are also uniquely suited to understand the economic case for the cloud, especially when it comes to cloud communications. As 8x8 customer William Stern, managing director at Bank of Cardiff told us, "The competitive systems we considered required $100K in capital equipment, along with service plans and multiple licenses. With 8x8 cloud communications, there are no upfront costs, no service plans and one license that covers multiple devices. It's what we call 'fractional ownership'—you own your phone system, but instead of paying for equipment and maintenance, you only pay for the customized service you need."
And yet, for these customers, money isn't the only consideration. It's also about trust. But since so much money is often at stake, customers really need to feel that the people they're doing business with are not only competent and trustworthy, but reachable and helpful, if they're going to put their trust in a financial institution.
"We want our customers to have a consistent, high-quality experience when they call us, whether we're a block away or a world away," explains Stern.
Integration Drives Financial Company to Choose the Cloud
For Cayan and its CTO Paul Vienneau, having one unified system was the most important thing. Cayan, a payments and merchant services company, formerly Merchant Warehouse, also uses 8x8 cloud communications, which replaced a patchwork of systems for customer contact and employee collaboration.
"With the 8x8 solution, all of these services will now be under one umbrella, delivered seamlessly and securely in the cloud to all of our employees on whatever device they happen to be using," he told us. Plus, like many financial companies, Cayan uses CRM and other enterprise software solutions. So Vienneau wanted workforce management and integration with NetSuite, which Cayan already used, and 8x8 comes pre-integrated with both.
See What's Driving Companies to the Cloud
So because finance above all knows how to run the numbers, we won't be surprised to meet some of our long-time customers and friends at Enterprise Connect. We also expect that we'll make lots of new ones at our booth, #1513 (March 16-18, 2015). And regardless of your industry or company size, we hope to see you there. Stop by and check out our NASCAR simulator, and see why so many companies are racing toward the cloud.