ECaaS: The Next Evolution in Cloud Communications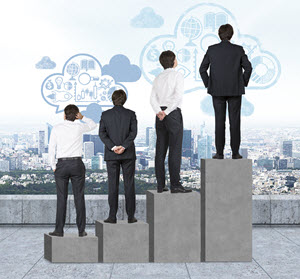 For years, legacy, on-premises equipment has struggled to keep pace in the new era of business
communications and collaboration. Over the past few years, we've witnessed several dynamic forces at play: IT increasingly supporting the rise of a global distributed workforce, the demand for highly individualized customer experiences and accommodating the mobile user.
Combine that with rigid, legacy communications systems that are difficult to manage, unable to scale, and can no longer accommodate "always-on" user expectations – and you have a major market disruption. This paradigm shift is motivating enterprises to explore new approaches and find a new communications model that scales with these evolving business needs.
The Cloud Communications Movement… It's On!
Today's cloud communications migration is real and its traction moving into 2016 is undeniable. In the last couple of years, many businesses have shifted their on-premises unified communications and VoIP solutions to the cloud so they don't risk falling behind. On-premises PBX systems have been steadily declining in the market while hosted VoIP services have been growing by double digits. With the global and mobile business craze firing on all cylinders, companies have been exploring more integrated enterprise cloud communications solutions to keep pace with their customers. 
In today's fiercely competitive landscape, companies want to go global and be up and running in days in a new country or office location. These are key factors fueling the cloud communications migration. The cloud model has allowed companies of all sizes to collaborate much more rapidly, flexibly, cost-effectively and comprehensively.
In fact, the more distributed, international and mobile a company is today, the greater the advantages for moving to the cloud.  As customers look to replace their legacy PBX system, they in turn look at replacing the applications that run on it, like a contact center, by funding the additional applications with the increased savings derived from moving their enterprise communications to the cloud.  There is no doubt that the recent traction we have been witnessing with cloud migration is part of a true market shift that is well underway across the aggregate communications arena.
Case in point: Last month, 8x8 announced several new global customers who migrated from their on-premises solutions to 8x8's Virtual Office (VO) and Virtual Contact Center (VCC) for an integrated approach to modernize their infrastructure, derive increased business flexibility, scalability and significant cost savings.
For example, new 8x8 customer OFX, a global foreign exchange company headquartered in Sydney, Australia, was looking for an innovative communications partner that could keep pace with their growth trajectory and 24/7 mission-critical business model.  "With offices and customers all over the world, we needed a communications partner that could scale with our rapid growth and 'follow the sun service model' without incurring expensive call charges and maintenance fees," said Ryan Orsmond, Solutions Architect at OFX.  "We had two options – undertake an expensive upgrade to our existing on-premises environment or transition to a cloud-based solution. We decided to go the cloud communications route for its increased flexibility and scalability."
Additionally, 8x8 customer  MOBI, a cloud-based managed mobility service provider, was looking for an integrated contact center and phone solution that offered consistently high call quality and advanced features, such as call recording. They teamed with 8x8 to uplevel their call capabilities and ensure business continuity even when disaster strikes.
"8x8's business model is similar to ours and integrates seamlessly with our cloud-based platform, providing scalability across any geography," said Mitch Black, MOBI President.  "We are impressed with the company's integrated contact center and telephony services, and its ability to provide direct support. This made 8x8 a great fit for MOBI as we continue to scale and enable our enterprise customers to unlock the potential of enterprise mobility around the world."
ECaaS: The Next Step in Modernizing Cloud Communications
At 8x8, we are re-defining cloud communications for the real world – for today's modern business era. We call this Enterprise Communications as a Service (ECaaS).  ECaaS is a rapidly growing area of business communications, and has become an estimated $50 billion market opportunity.  8x8's ECaaS solution offers businesses an innovative approach that seamlessly fuses UCaaS (Unified Communications-as-Service) with CCaaS (Contact Center-as-a-Service) to deliver an intuitive, global, enterprise-grade solution on a single platform for all their communications needs.
Over the past several months, 8x8 has seen strong momentum with global mid-market and enterprise customers across retail, manufacturing, technology, education and services. In fact, today, more than 50% of our service revenue is coming from mid-market and enterprise customers — up from 42% a year ago.  Currently, 37 of our top 50 customers use both our VO and VCC solutions – which continues to be a major differentiator for the company.
8x8's ability to attract and rapidly on-board businesses that are ready to abandon their costly, cumbersome premises-based communications infrastructure is a leading indicator that the time for ECaaS is now. The cost savings alone can add up to millions of dollars per year, and a single, predictable bill at the end of each month is highly appealing for customers.
The market opportunity ahead is tremendous – with less than 5% of mid-sized and enterprise companies worldwide having migrated to the cloud. However, the momentum is palpable and many others are ready to make the move or have already crossed the cloud chasm to team with 8x8.  According to Gartner, the U.S. mid-market and enterprise segments are forecasted to see the highest growth moving forward at 25% and 40% – 45%, respectively.
New Time, New Game
The game has forever changed. Forward thinking businesses are demanding innovation in their communication and collaboration services to bring a new level of business flexibility and productivity into their world. It's about global communications, agility and a personalized customer experience that is driving today's massive business evolution.  Customers want nothing short of business transformation – from their desktop communications to their mobile devices.  The vendors that are thriving today are the companies who are listening and delivering an innovative, flexible, reliable and secure communications network.
To hear more about 8x8's view on ECaaS and the cloud communications opportunity, check out our video from Enterprise Connect here.