E-Rate Program Offers Subsidized Phone Service for Schools and Libraries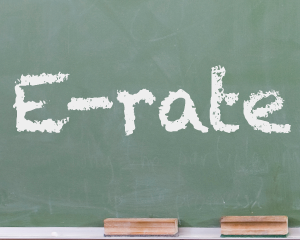 Do you know of a K-12 school, library or school district that needs affordable phone service or telecommunications upgrades? Did you know that 8x8 can provide significantly discounted phone, fax and Web conferencing services to these organizations?
That's because 8x8 participates in the federal E-rate program, which is paid for by a tax called the Universal Service Fund, a $2.25-billion government fund that subsidizes telecommunications modernization and upgrades at qualifying educational institutions. The Universal Service Administrative Company administers the fund and determines how much the program will subsidize for each application, based on need and other factors.
8x8's entire service fee qualifies for a discount, and we have seen subsidies of up to 90% approved for our services to K-12 schools and libraries. For example, St. Matthew's Lutheran School in Oconomowoc, Wisconsin recently used the E-rate system to replace an aging PBX that was literally demolished by a bolt from the blue, when lightning struck the school.
E-Rate Program Subsidizes Phone Service Costs for St. Matthew's
George Zaferos, business manager at St. Matthew's, began looking for a hosted PBX solution that would reduce the school's up-front costs. He contacted 8x8, and he says that from his first conversation with the team there, he felt that 8x8 was a good fit.
"8x8 knows how to scale to meet the needs of smaller organizations," he says. "The technology is easy to use and manage, and the cost is phenomenally competitive, especially compared to do-it-yourself phone systems."
"8x8's participation in E-rate allowed us to add features and capacity to our phone system and still keep our costs down," says Zaferos.
See how 8x8 VoIP phone service helped St. Matthew's School cut costs and get more features. As Zaferos's experience shows, this is a great way for schools and libraries to get access to 21st-century communications services at a significant discount.