Don't Give Up an Arm and a Leg to Collaborate!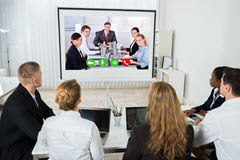 "As a collaborative leader, you support people in their work —you remove roadblocks and help them win" 
Kenneth H. Blanchard, Best-Selling Author
Through video conferencing people come together, giving the appearance of being present despite geographical distances. This helps to remove roadblocks and improve business productivity. So it's no surprise that it's become a multi-billion-dollar industry. In 2015, companies spent an average of US$4,096 and purchased more than 427,500 video conferencing telepresence systems (Frost & Sullivan).
These purchases usually include massive screens, expensive cameras, and anchored systems. Aside from weighing a ton and costing a bundle, the solutions are anything but portable. As a result, businesses create reliable, high-quality collaboration, but give up flexibility and portability.
In this era of mobility, should enhanced collaboration continue to be relegated to massive conference rooms, huddle rooms, and dedicated spaces? Let's look at the stats. According to the Pew Research Center's 2015 Global Attitudes Survey, 43 percent of the world's population owns smartphones. That number is considerably higher in Europe at 65 percent and the United States at 71 percent. In an ever increasing bring-your-own-device (BYOD) culture, collaboration needs to go way beyond anchored communications.
Cloud-based Video Conferencing for Everyone
8x8 Virtual Office Meetings delivers high-quality, HD video conferencing over any device and network, automatically adjusting performance based on available bandwidth. It's extremely resilient, even in the most difficult conditions.  This speaks to our adaptive jitter buffer technology. It uses advanced buffering to prevent call quality degradation when signal strength is weak or unpredictable. So, even when using a poor quality network 8x8 delivers a high-quality call. And swapping between your mobile phone, desk phone, and computer? It's as easy as pushing *88.
From the Virtual Office desktop application, you can share audio, video, messaging, screens, images, even use a built-in virtual whiteboard. From the Virtual Office mobile application, you can share audio, video, and chat. These unique tools are making effective video and mobile collaboration a reality for 8x8 customers.
Stay Flexible + Save Money
For the best audio and video experience, combine the flexibility of 8x8 Virtual Office Meetings and HD video conferencing with an IP conference phone. IP phone prices start at just US$80. Use a desktop computer or a laptop with a built-in camera. For higher video definition, add a webcam. Nine of the top ten webcams on TopTenReviews can be found for under $65. Combine a few components and you're all set. You just built a telepresence solution for far less than you thought.
Want to Spend Even less?
No problem. Combine the flexibility of 8x8 Virtual Office Meetings and HD video conferencing with your smartphone, and use our free 8x8 mobile app. You're now a BYOD master. Plus, by using the smartphone you already have, you can save thousands of dollars, building a complete video solution for under $300! Let your competitors spend the big bucks. You got this.
Small Team, Large team—8x8 Has You Covered
Have a large team? Want to connect multiple offices, but don't want to spend tens-of-thousands of dollars to do it? Turn your existing conference room into a global video experience with 8x8's Virtual Office Meetings and HD Video by adding a large screen monitor. Aim your webcam to capture your team around the conference table and share HD video with the rest of the assembled group. It's really that easy. And it's so much fun to keep more money in your pocket–without sacrificing quality!


References: