Does Your Communications Solution Need an Upgrade or Do-Over?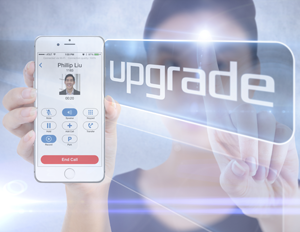 Back in the day, most business people wanted to increase sales by delivering faster answers and being available for customers through any media channel, at any time. The goal? Generating more deals and providing superior customer service. And they started to use all kinds of different devices (PDAs, pagers, mobile phones, laptops) to enhance these customer interactions.
For example, the pager quickly became the default way to contact doctors for urgent matters. For a while, this solved the main objective. But then, managing so many devices—each one for a different purpose, usually with incompatible technology–became a management nightmare. They needed a way to simplify their experience without losing their hard-earned gains in customer satisfaction.
Smartphones and tablets were a step in the right direction, since one device could finally manage all the media channels involved in a conversation.
But managing collaboration is still a problem. How many different applications do most business users typically use in a week just for collaborating? Lots of companies use one app for voice, another for messaging, a separate app for sharing pictures and blogs, another for sharing documents, and still others for videoconferencing, calendaring, messaging, etc.
Just think of all that lost time. It goes far beyond just a different learning curve for every single application. Switching between applications and having to leave one form of communication just to use another are disruptive to collaboration, which ultimately suffers when communications are constantly interrupted and not continuous.
Bring-your-own-device (BYOD) strategies can sometimes make the problem worse. True, everybody has the capability to use their preferred device. But business users and IT have both discovered that some applications deliver an inconsistent experience when people use them on different devices.
So what if you could use one app to manage it all? What if you could start an IM, escalate it to a video session, initiate a traditional voice call, schedule a meeting, invite participants, manage visual voicemail or receive a voice-to-email notification, record a call or simple identify the presence of your contacts—all from the same app? How much would productivity increase and inefficiencies decrease? And how much easier and natural would the collaboration feel?
8x8 enterprise communications helps you do all that today. With Virtual Office Mobile (iOS and Android) and Virtual Office Desktop (Windows and Mac), employees have all the capabilities needed to manage collaboration, improve the customer experience and significantly increase productivity.
Why waste time trying to shoehorn your way of doing business into inadequate, outmoded technology? Why not use a solution that fits the way you conduct business—one that addresses your own business needs and pain points?
Why do we feel the fundamental capabilities that enterprise cloud communications has to offer are not within our reach? Lots of businesses have given up even asking for things like business mobility and agility, multi-channel communications and presence-enabled directories, the highest levels of call quality and robust delivery features to effectively and securely manage your global communications and collaborations services. And what about advanced enterprise communications tools to increase business flexibility and productivity? These are all available today too, from 8x8.
Everyone needs to work more efficiently and flexibly, regardless of their location. And we all need a seamless experience using world-class, enterprise-grade telephony that allows users to have a continuous communications experience, with the ability to easily switch from chat, messaging or voice, roaming across multiple networks like 3G/4G LTE and Wi-Fi. It's not only possible; it's happening every day.
To find out more about the innovative solution that can help you manage it all—from BYOD to communication to collaboration—check out a fresh approach from 8x8 that is disrupting inadequate, dated ways of collaborating.