Do Your CXOs Fear the Cloud?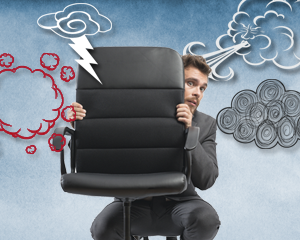 We've all done it. Avoid making changes for any number of reasons—I mean, why fix what isn't broken, right? Add to that fear of the unknown, wrong timing, procrastination, etc. So could you be putting your enterprise at risk by avoiding or delaying cloud adoption and staying anchored to your legacy, on-premises communication system? And are you in greater jeopardy by simply doing nothing?
In today's global cutthroat business environment and competitive landscape, that answer can become a resounding yes very quickly and easily. Below are some of the top risk factors you need to be aware of when staying with your on-premises system or delaying your cloud adoption:
Security breaches—This is becoming a daily occurrence. Hackers get access to a company's files, customer or employee personal information, medical information, credit card numbers, etc. What I find most troubling is that it's not just limited to corporations, the U.S. government is now getting breached at an alarming rate! I recently received a letter from the government organization responsible for granting security clearances used to protect our most sensitive secrets, stating they had been breached and that my social security number was now in the hands of the perpetrators. Are we asking too much of our IT department or do we have unreasonable expectations of their ability to secure all of the company's communication systems? Have any of them been trained specifically on today's security best practices, or how to detect a breach?
Unplanned outages—Are you prepared for that fateful day when your enterprise experiences an outage? Do you have a disaster recovery plan in place? If your on-premises system is out of warranty or no longer on maintenance, what will it cost to get it back online? Are the necessary spare parts still available or will you need to visit eBay? If your on-premises equipment provider is still in business, will you be asked to renew a contract or perform a system upgrade that you hadn't planned on? What will that cost?
Not poised for long-term growth—Hopefully your enterprise is poised to help drive the global economy and is experiencing solid growth. However, do you have a strategy to meet those growth needs by expanding or stretching your existing on-premises system? Speed of company growth and geographic needs may drive a unique set of challenges for your IT team.
 Skyrocketing costs—When was the last time you reviewed your telecom bill? Most people look at a typical telecom bill and go cross-eyed! It's not easy to figure out which services you are receiving or get a thorough breakdown for services such as toll-free, long distance, PRIs, usage, etc. To understand the bill usually requires a meeting with your telecom service provider sales representative….and good luck getting a hold of them. The last thing in the world they want to discuss is how to lower your bill.
Delayed global expansion—So your SVP of Sales or your CMO has a brilliant idea to go global or expand somewhere you can barely find on a map. How do you intend to meet those needs? Will it require a temporary move to this location to implement a new system? What are their customs, local requirements, language used……who are you going to call?
Hard to keep pace with evolving business and end-user requirements—In the old days your company's communication system was your phone system desk mounts. If you needed a contact center solution, it was primarily voice based and most likely an add-on feature of your phone system with an IVR, ACD (automatic call distribution) and possibly some reporting. Today's customers demand much more of your business, and they want to get information via the web or initiate a chat session to avoid having to wait on hold. Your employees are adept at texting or would prefer to use their own mobile device as opposed to utilizing a desk phone—something millennials characterize as outdated.
Most viable cloud-based communications solutions can resolve some of these risks, but only 8x8's Enterprise Communications as-a-Service (ECaaS) solutions are capable of truly delivering on all of them.
Highest levels of security—8x8 has deployed the latest security measures to continuously monitor the infrastructure for threats and quickly deploy countermeasures. 8x8's Executive Director of Corporate Security works closely with industry leaders to achieve compliance with; HIPPA, FISMA, FIPS, PCI and Safe Harbor. 8x8 data centers are redundant and reliable for disaster recovery, the architecture has patents protecting security measures and we utilize a combination of device certificates, secure authentication, encryption and other measures to provide the highest level of security in the industry.
99.997% uptime—overall system availability with no planned downtime utilizing a service that will never become obsolete, and has no single point of failure. 8x8 is fully redundant by utilizing our globally distributed data centers with the ability to fail-over as needed, with the added benefit for end users to take advantage of mobile or web-based services from home or anywhere in the world.
Unparalleled scalability to meet your enterprise needs. Adding users is as easy as placing an order for additional users, which in many cases can be done within 24 hours, assuming your infrastructure is ready to meet the demands. If you are setting up a new location, 8x8 offers the flexibility of allowing users to connect to the cloud via an Internet connection optimized for voice (8x8 can assist with configuring your router and firewall settings), MPLS or a combination of these services. We have many customers utilizing office space from global providers such as Regus, yet employees are still connected to the enterprises' system.
Cost cutting—In many cases, your typical carrier may be charging too much for toll-free services or billing your company for services that you may not need or understand. Several key cost savings areas include; 8x8's conference bridge services which are included with each 8x8 extension and come with zero toll charges, avoiding long distance charges with unlimited outbound calling anywhere in the U.S., Canada and parts of western Europe, avoiding international toll charges when making extension to extension calls, saving your customer's money by providing local DIDs they can use to reach your company.
Global Reach—8x8's global data centers and carrier relationships worldwide, we can provide local DIDs for almost anywhere in the world, and in many cases, localized abbreviated dialing, support for emergency services and localized billing. 8x8 can support remote offices, whether they are under your control or are leased office space from a company such as Regus. We can make that new international office opening as easy as if it were in the next city or state.
Future-proof—8x8 offers it now by providing collaboration across any channel; voice, chat, web, email, SMS, co-browse…and we won't stop there. Our cloud-based architecture provides the means to add services, features and capabilities as needed. As new capabilities and features become available, we will alert you and assist you with implementing them to meet your unique business needs. As your end-users become more reliant on their mobile devices, we plan to continue driving value-added enhancements and features that will not only make your end-users happy, but will drive cost savings and enhanced productivity across your enterprise.
Click here to learn more about 8x8's ECaaS solutions or visit us at www.8x8.com.