Bolt Bait: Why Do So Many Businesses Put Off Ditching Old PBXs for VoIP Phone Service?
Apparently, lightning not only strikes twice, it strikes businesses frequently, and it has an affinity for creaky old PBXs. That's the takeaway from our customers, anyway.
If you've been reading this blog, you might have noticed that we've recently written about two different organizations whose representatives told us that their PBXs were already on their last legs when the old clunkers were literally zapped by lightning into that Great PBX Closet in the Sky. We've found others since them.
We've also had customers tell us that they actually saw a hurricane coming, knew their PBX was on its last legs anyway, and signed up that day because they (correctly) figured that cloud-based VoIP phone service would keep them running when the storm hit.
And while we're happy to help anyone who sees all the advantages of cloud-based phone service, we wonder how much time they spent trying to keep their PBX from totally giving up the ghost. We also wonder how much sooner they could have gotten so much more, for less cost, and for a tiny sliver of the time they wasted keeping it going.
Who Knew This Was Such a Problem?
Most of all, we wonder just how many folks out there are getting their PBX closets fried by lightning, anyway?
Because when we started checking, we found LOTS of other customers who KNEW they were missing out on increased productivity, or who knew that outages or dropped calls were costing them money, but were limping along with an old PBX or Grandma Bell phone service anyway.
We've seen their PBX closets, and we're talkin' PBXs that looked like Dark Age dungeons. Phone service that didn't acknowledge even the existence of the revolution in smartphones, tablets or even laptops.
Stuff that was costing them money, and they knew it.
It literally took being hit by a bolt from the blue, or a really awful storm, where the alternative was TOTALLY doing without, to really change it.
Losing Money on Tyrannosaurus Bell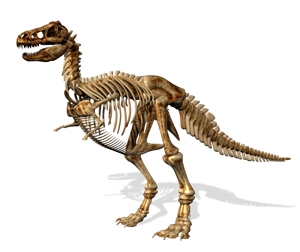 It got us thinking, what is it about humans that makes us that way? These owners and managers are smart, successful people who have accomplished really hard things in building their businesses, schools and nonprofits. A lot of them are seasoned spreadsheet wranglers who can easily figure out the net costs of bygone, Jurassic-era phone service. Most of them are anything but procrastinators.
But just about everyone hates to throw something out or abandon it if it works at all, even a little bit. Maybe it comes from when we were kids and our parents told us to store the leftovers or just use our school backpacks a little bit longer.
Maybe it feels like there's no time for busy owners and managers to sit down, crank out the numbers, and figure out which new office phone systems are the best. The fear here is that if you decide wrong, even if you got something better than you had, you'll blame yourself because you think maybe you could have done even better. (Kind of like marrying your first e-Harmony date.) And if it's worse, you did it to yourself, which is hard for people to live with.
Or maybe it's just that the savings and the possible new system that we COULD have—but haven't experienced yet—seems so much less real than that thing in the closet or the known, predictable evil amount of the current phone bill.
The Consequences of Doing Nothing
Because, by not switching to business VoIP, business people are actually paying very real opportunity costs for what they're NOT getting. In this case, they're missing easy forwarding of calls to mobile that help to make more deals, faster—or voicemail that forwards to someone's cell phone or email inbox, helping to make a sale. Or maybe it's costing a lot to buy a separate service for Internet faxing or Web conferencing. Or maybe there are lots of dropped calls or transfers to nowhere that make an organization look less professional—and that costs money, too.
Why Didn't We Do This Sooner?
And time and again, when people came out into light—and the 21st century—when they moved to business VoIP, they were amazed at what it was like to live without all the old annoyances and limitations.
"With our old system, we couldn't transfer callers to agents who worked at home," explains Mary Mammino," office manager at RE/MAX Tri County . "Our receptionist would have to take a message and have the agent call back, or she would have to give out the agent's home number or cell phone number." I mean, seriously, what business owner should have to put up with stuff like that these days?
The folks that dodged the hurricane wipe out are happy they switched, too, telling us that "We are now not tied to any one device with our 8x8 service, not even desk phones, as we are all using PCs and iPhones for our business communications. We've also been able to add valuable features, like after-hours emergency ring groups, to improve customer responsiveness."
And the staff at Saint Matthews School can't believe how much better life is now that they've made their move. "We saved a great deal of time and money by selecting 8x8," says George Zaferos, school business administrator for St. Matthew's. "8x8 hosted service takes away the headache of purchasing and maintaining an on-site PBX. It doesn't make sense for a small organization like ours to do it when 8x8 can do it much more cost-effectively. All we had to do is purchase new phones, and that cost was negligible compared to the cost of a new PBX."
So do you really need a bolt from the blue to force you into a decision? Learn more today about what VoIP business phone service can do for your company—rain or shine.