Death of Omni-Channel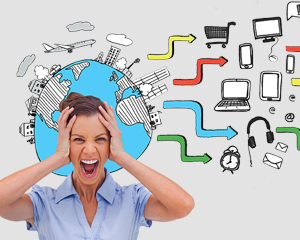 Part 2–Blog Series
In my last blog, I explored the challenges of omni-channel and how it creates such a complex, convoluted picture of customer interactions—so much so that it distracts us from really looking at customer conversations and finding ways to make them better.
The cross-channel journey
Now, I would like to talk about what has become the core of any omni-channel discussion—the journey from one channel to the next. At 8x8 we believe that a handful of simple principles can create a better experience for customers, and that too many companies today are simply over-doing it. And as a result, they are missing the point.
Our recurring recent nightmare
We've all experienced it. You go online to find something but you just can't find what you need or you get confused or lost filling out a form. Now what? Well, on most sites or mobile apps, the next step is to fumble around the website to find a number to call.
Once you call the number, you find yourself being encouraged to solve your problem with an automated IVR system—if you could not do it on the web, chances are you won't be able to do it with a self-service voice system. Then you figure out how to get to the person you need, and often what is the first thing you hear? "Did you know you could solve this problem on our website?" Grrrrr….
At this point, you're likely no longer motivated to try since the take-away is clear: It's all about them and their convenience, and they don't appear to want to help me resolve my issue with a personal touch.
The mindset problem
Why do companies put their customers through this? It kills customer satisfaction, and starting calls with an agent from scratch is an inefficient waste of agent time and your money. The issue is the "Automate at all costs" mindset. It's a logical way for a contact center manager to look at the world when you consider:
A web self-service experience costs around a dime
An IVR self-service experience costs about a quarter
Help from an agent costs between $2-$5 dollars, or more
Many companies do all they can to force customers into automation. Push customers to the web and make it as hard as possible to find the number to call. And then put a complex IVR on every phone number to force as much self-service as possible. As I said, it's clearly a logical way to view things, but it falls short and there is a much better way. 
Think efficiency
People like self service…when it works. If I can update my address online without having to make a phone call, I'm happy. When I can make a quick call on Friday night to see how much I can take out of the ATM, that is convenience.
Don't force self service on everything. If you have a complex process like a loan application, feel free to provide the forms online and be as clear and supportive as possible, but please recognize that this will not work for all of your customers. Some will always need to talk to someone. Put a chat link on those pages, offer a web callback or even co-browse.
When someone needs help, leverage what you know. Identify the customer to the agent, let them know what they were doing. If the customer needs help on how to fill in one field, that can be a quick, simple discussion—not to mention an efficient use of the agent's time and a great experience for the customer. If the dialog is going to start with "How can I help you?" or "Who am I speaking with?"—the company is going to spend a lot of money on that agent having to listen to a frustrated customer's rant and wasting a lot of time working on what should have already been known.
Easier than you think…and much easier than omni-channel sounds
Now, here's an interesting question: Did you notice that I just told this whole story and never used the "O" word once? I think that is my biggest concern about omni-channel. It makes the dialog more about how many channels a business can support at once, or how many of these off-the-wall use cases they can manage. But it's critical not to lose sight of what matters: the customer. At 8x8 we've long been focusing on making it easy for our customers to solve real problems that make their customers happy and save them money.
In this case, it's about providing intuitive, relevant and efficient escalations from the web to an agent who is knowledgeable and can help in a minimum amount of time with a seamless, smooth escalation path for the customer. Businesses may reduce their automation rates a small amount, but the ultimate cost will be more than offset by the hidden costs of blind calls coming into your call center where customers are begging for assistance after a web breakdown. And the increase in customer satisfaction will do far more for your brand than nearly any marketing campaign you produce.
8x8 has a lot of helpful information on providing a highly personalized customer experience on multiple channels on our website.
And to see how one of our flagship customers provides a high-touch experience on the channel that best meets the customer's needs, check out this fun video.