Cuomo Says Weird Weather Is the 'New Normal'—Is Your Biz Ready?
New York Governor Andrew Cuomo recently spoke of serious tornado damage in his state and told crowds that people need to make plans for weather that they previously considered unthinkable.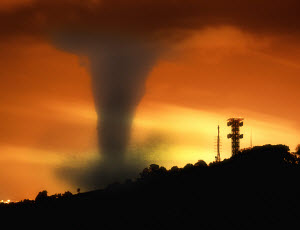 "We don't get tornadoes in Upstate New York," Cuomo said, according to Syracuse.com. "This new normal is a challenge for governments, first responders and citizens in the state."
Companies Prepare with Business VoIP
But even before the recent tornadoes struck New York, some businesses were taking out what amounts to an "insurance policy" on their communications—by turning to business VoIP to keep them running in weather emergencies and other outages.
Based on the same underlying technology as Internet phone service, business VoIP provides all of the functions as an old-fashioned PBX closet phone system. Some providers also offer additional  features such as call forwarding and recording, auto attendant, web meetings, chat, fax and even call center capabilities.
And while tornadoes are strange in New York, storms aren't. "In White Plains, we lost power for four days after [hurricane] Sandy," recalls steel manufacturing company Artco Group's CIO Damian Brennan. "Our 8x8 VoIP auto-forwarding kicked in flawlessly. We used our iPhones and home phones to take calls and keep the business going during the disaster."
Multiple Data Centers Provide Extra Protection
Plus, since business VoIP is provided over the Internet—and can be accessed via mobile apps such as tablets, computers and smartphones—it's less likely to be wiped out in the same catastrophe that affects a local business office. Some business VoIP providers, such as San Jose-based 8x8, Inc., even maintain several redundant data centers thousands of miles apart, so it's hard to even conceive of a single natural disaster that would affect them all.
"Our headquarters are in a hurricane zone area, so we needed a solution capable of providing the best disaster recovery solution," says Pedro Dominguez, senior network administrator for VMR Products, LLC. "8x8 business VoIP was the best solution for us."
Quick, Remote Changes Keep Customer Communications Open
Many business VoIP customers also praise business VoIP systems' ability to make quick changes remotely to call forwarding or auto attendants ("Press 1 to file an insurance claim or press 2 to speak to an operator"). In a storm, for example, an office manager safe at home or in a remote office could set up emergency call routing to workers' mobile or home phones—without risking life and limb driving into the storm.
"Business VoIP has helped us implement the best customer service solution for our company, with fast and easy user interfaces in order to make quick changes," says Dominguez. "The support team at 8x8 is willing and able to resolve quickly any bumps we encounter on the road."
Many businesses rely heavily on VoIP-based capabilities to maintain customer contact when there's a disaster.
"Our employees can work practically anywhere, as long as there's an Internet connection," says Florida-based iCruise's  co-founder Uf Tukel. "If there's no power at the office, we can all work remotely. Customers have no idea that the office is closed because the service is seamless. Thanks to business VoIP, we're much better prepared for the storm season than we have been in the past."