Crossing the Financial Cloud Chasm
The Channel's Financial Guide to Cloud Computing is a multi-part series discussing the financial impact of cloud computing within the channel. Topics include the economic impact of cloud computing, changing the portfolio and revenue models of products/services and designing sales compensation plans to change behavior. This is the second blog post in the series.
What does it take for a channel business (VAR, MSP, Systems Integrator, Telecom broker/agent, etc.) to transform from a product-centric business to a cloud-centric one? For many, the answer lies in selecting the right recurring revenue model.
Typically, executive teams want to run a pilot or apply a small, nimble team to start and grow their cloud business. And they want it done almost as a side project to "see how things go." Sometimes this approach works due to the effort and perseverance of the team. However, more often than not it doesn't. As a result, resources end up being reallocated to more core business functions.
So wait. Don't give up on your cloud aspirations yet. There are key considerations and questions that must be addressed to achieve a successful channel business transformation–and avoid some costly pitfalls.
Once you've fully explored and answered the following questions, you'll be ready to move forward with your cloud plan.
Where's your revenue coming from today?
Most likely today, the majority of a typical channel business' revenue is coming from on-premises solutions (hardware, software, deployment, and support services). Just as we talked about in Part 1, this is all recognized and paid for by the customer upfront.
Cloud services are micro transactions, which are deferred and paid over the course of time as customers consume services. You can imagine that shifting 100 percent of traditional on-premises business overnight to a cloud model would create a cash-flow problem, causing the business to not have enough cash to operate.
Commission payments, selling, general and administrative expenses (SG&A), and overhead that supports the business today would have no way to cover operating expenses. For an annual subscription contract, the business would receive one-twelfth of the payment after the first month vs. the full annual lump sum. Thus, for an existing and operating channel business, the transition from on-premises to cloud must be gradual and over time.
What's your expected transition timeline?
The transition of a channel business from providing on-premises to cloud solutions can be a lengthy and time-consuming process. The transition actually happens gradually on a deal-by-deal basis as customers are signed. Each customer builds the annuity stream brick by brick, making the rate of customer acquisition key to a faster transition.
If the business can't acquire customers at a steady rate, the cloud chasm may never be crossed. It will take significantly more customers signed with a cloud solution to replace the immediate cash recognized for every on-premises customer. Depending on the size and revenue of the current business, ultimately it may take several years to achieve the desired transition.
What's your break-even point?
To properly build a cloud-based business, there needs to be some level of investment. The investment includes items such as establishing the ability to invoice customers on a monthly basis, readjusting the sales talent and skills needed for a different level of sales engagement, offering different deployment and support services, etc.
This level of investment, in addition to any existing operating overhead, all contribute to an incremental financial burden. The executive team must fully understand what this incremental overhead is– and have a clear line of sight to the number of new customer wins required to cover the investment along with the projected transition timeline. Accelerating the achievement of target milestone should be a key goal of the executive team.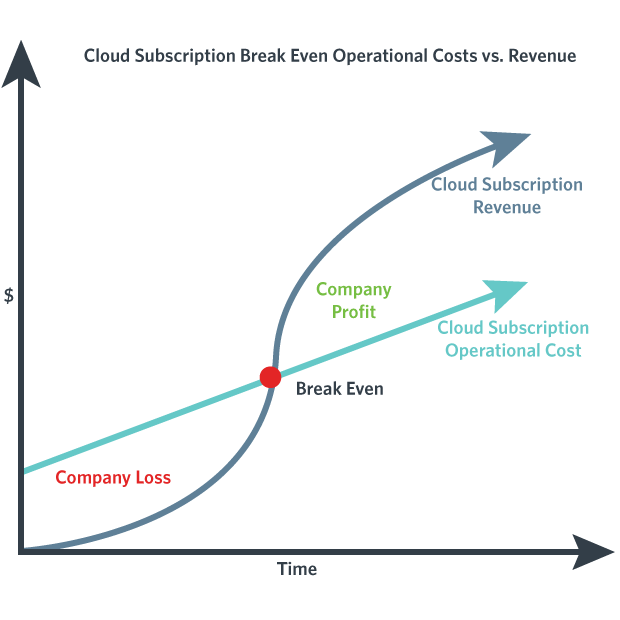 What's the magic number to be material to your business?
Another key metric to understand as part of the transition plan is the amount of revenue that will make the cloud component relevant to the current or existing business. Since this is recurring subscription-based revenue, the target will be different from traditional on-premises metrics. Some businesses will look at monthly recurring revenue/gross profit, while others will look at actual total revenue recognized over a certain period (quarter, year, etc.).
Whatever the metric, the target to be relevant should be a set dollar amount or a percentage of total business revenue. This conversation needs to occur upfront. In many cases, however, this target is never explicitly set until well past the transition. Until this number is attained, the reality is that this portion of the business will be neglected like an "unwanted party guest" and most likely not get the full support or company resources until achieved. It may also be one of the first areas to be cut if times get tough.
This brings us to the final question: What's your transition plan?
It can't simply be, "We added a cloud sales person to lead the charge." The plan must be organized and thoughtful to orchestrate the go-to-market sales motion across the entire business. Account planning and sales targets must be set. Sales incentives and compensation plans must also be established to change behavior. One of the mistakes companies make is not setting proper sales targets and commission plans to drive desired outcomes. This is the single biggest transition inhibitor. Hands down.
I can't emphasize enough that your plan must be thoroughly thought through and have the complete support of your executive team before you proceed. It's the only way you'll successfully cross the cloud chasm.
Stay tuned for my next blog post in this series, where I'll discuss the transition plan in more detail, including the most important financial components of sales compensation plans and targets.