Contact Center vs. Call Center: The Complete Guide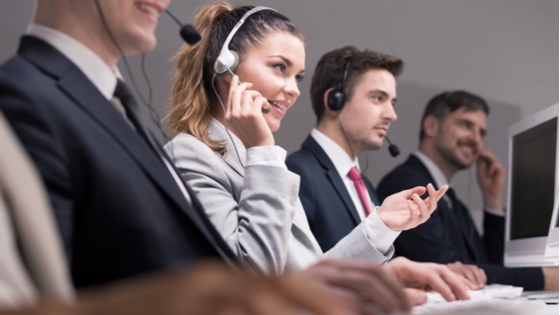 What Is a Contact Center?
Since the emergence of social media, in-app, video and other digital media, more people are interacting with friends and family over these channels. For instance, you could text a friend during work to set up dinner plans. During lunch, you call her to confirm plans and make sure reservations have been made. And as you leave work and make your way to the restaurant, you may send a video message on Facebook Messenger to let her know you're coming.
Since customers have access to omnichannel communication in their personal lives, they have come to expect the same when interacting with their favorite brands. A contact center enables businesses to deliver omnichannel and multichannel customer service interactions to customers. This allows any customer from anywhere to reach businesses through their preferred channel.
Today's contact center is the result of a gradual shift away from the call center customer service model which has existed for decades. On one hand, newer technologies have created various communication channels for customers to reach out to brands. On the other, increased customer expectations are forcing businesses to innovate their operations and improve customer experience.
Contact centers usually have high highercall center customer satisfaction ratings (CSAT), lessreduced average handle time (AHT) and require fewer agents to operate than call centers. Also, most companies integrate their contact center with their customer relationship management (CRM) system to track, manage and coordinate all interactions with the public.
Features of Contact Centers
More and more companies are leveraging social messengers, social listening tools and mobile apps to interact with customers. Previously, social channels were the domain of marketing departments. Now, contact centers are creating teams and taking on social media agents to handle interactions that come in through these channels. Let's take a look at some of the features of a modern cloud contact center.
Intelligent Omnichannel Routing
This feature is vital to the smooth running of contact centers. It prioritizes and routes voice calls and inbound communication from other channels to the appropriate team or agent. This is particularly important if your contact center has dedicated teams or agents for different channels.
The right contact center solution should prioritize interactions based on channel type and allow agents to handle communications from multiple channels at a time. You could create rules stating the maximum number of requests agents can simultaneously handle. For instance, agents can be restricted to one voice interaction, two email interactions and three chat interactions at any one time. Since customer service representatives are not limited to any one channel, this reduces the dead time between interactions and increases engagement levels.
Supervisor Enablement
Robust contact center solutions enable supervisors to assist and oversee the performance of agents on their teams. With smart scheduling features and coaching tools, supervisors can properly assign tasks and channels to the most appropriate agents while monitoring their performance and stepping in with relevant advice when needed. Supervisors can view the following reports on their dashboards
Agent stats
Interactions in progress
Queue information
Average handle time
Other key performance indicators (KPIs)
Supervisors can provide real-time coaching during agents' interaction with clients (without interrupting the customer experience) and analyze performance reports to provide agents with specific feedback. They can also monitor calls to identify areas of improvement and spot system misuse and efficiency gaps. Such tightly integrated quality management leads to better customer experience, enabling contact centers to consistently meet and exceed expectations.
Integrations
One of the best features of a cloud contact center is its effortless integration with CRM, team collaboration and marketing automation tools. CRM integrations allow centers to automatically log customer actions, preferences and interactions across all channels, thus providing a 360-degree view of consumer behaviors. This enables your contact center agents to deliver personalized and relevant real-time support to customers' problems and concerns.
Analytics
Modern contact centers provide admins and agents with access to real-time reporting, speech and customer experience analytics. Agents get to review and analyze reports on wait times, customer journeys and queues across each customer engagement channel. Admins, supervisors and managers have access to customizable reports that prioritize key performance insights and deliver critical information to help identify opportunities to optimize customer experiences.
With cloud contact center technology, you can improve the overall efficiency of your customer service operations by defining custom KPIs that drill- down into performance, quality and agent-related metrics to extract the insights you need.
Benefits of a Contact Center
Omnichannel Interaction
In addition to handling inbound and outbound voice calls, contact centers also handle customer interactions from other digital service channels. This enables customers to engage customer service reps via their preferred channel.
Since these channels form part of an integrated system, both customers and agents can switch between channels without disrupting service or losing context, no matter where the interaction starts or ends.
Better Customer Experience and Job Satisfaction
Customer service reps are on the receiving end when a frustrated customer makes rude comments or starts shouting. If this happens often enough, it'll result in poor morale and job dissatisfaction. Allowing customers to interact via their preferred channel and cutting waiting times reduces the chances of a conflict—making interactions more enjoyable for customers and agents.
Also, deploying intuitive self-service channels like interactive voice response (IVR) systems and chatbots on websites decreases the number of routine questions and inquiries that agents have to answer. The knowledge libraries and dynamic scripting in contact centers enable agents to expertly respond to customer inquiries. This reduces friction and makes for great customer experience.
Types of Contact Centers
There are two major types of contact centers: omnichannel and multichannel contact centers. Both are quite similar in one respect—they offer businesses a variety of communication channels for interacting with customers. However, they operate differently.
Multichannel Contact Center
Although multichannel contact centers offer all the channels you need to keep up with customer service inquiries, they do thisso in silos. Agents require multiple desktops to handle interaction for each channel, and contact centers may also have to segment agents and teams by channel.
Such silos mean that customers who want to escalate an inquiry over a different channel (moving from chat to voice) would have to start from scratch with a new contact agent. To get an appropriate response, they have to repeat all the information they have already provided to the previous agent to the new agent. To give customers the ability to easily switch channels, you need an omnichannel contact center.
Omnichannel Contact Center
Omnichannel contact centers enable agents to simultaneously handle customer inquiries from multiple channels. Customers can switch channels (from chat to voice to social media) while remaining with the same agent. No matter how many channels a customer uses, the context is always carried over and visible to the agent.
This gives customer service reps a complete view of all prior interactions, enabling them to stay on the same page all through the customer journey. For this to work, companies need to deploy the right contact center technology.
What Is a Call Center?
Traditionally, a call center is an office with several call center agents who provide customer service via the telephone. The call center serves as the heart of customer service for many businesses. It enables customers to call in and receive support/solutions with their problems.
It's called a "call" center because voice calls are the primary method of interaction between customer service agents and customers. Customers call in when they need help, and agents call out for marketing and sales purposes.
Types of Call Centers
There are two major types of call centers. They function as either an inbound/outbound call center or a blended call center.
Inbound call centers take calls from customers that need help and support. Call center agents often act as the knowledgebase for a variety of customer service problems including billing issues and tech support. The primary focus of an inbound call center is agent productivity and quick call resolution times.
Rather than receive incoming calls, outbound call center agents make calls to customers and prospects. These calls range from surveys, marketing offers, sales calls to debt collection, fundraising requests and more.
On-Premise Call Centers
Although many are migrating to voice over internet protocol (VoIP), traditional call centers rely on on-premise hardware and telecommunication infrastructure to handle high call volumes. In-house teams are responsible for installing, configuring and maintaining the private branch exchange (PBX) or internet protocol private branch exchange (IP PBX) hardware.
Cloud-Based Call Centers
Agents use a smartphone or computer to access a service provider's cloud-based call center software. There is no installation, operating and maintenance costs associated with such virtual call centers. Companies only need to have internet access and pay monthly subscription fees to the service provider.
To drive- down costs and improve customer satisfaction, call center managers whittle- down the number of agents. They also push the ones left to answer more calls per day and resolve calls faster. While some call centers deploy IVRs, these systems are often used to keep customers from talking to live agents.
Features of a Call Center
Despite the availability of several communication channels, a lot of customers prefer to interact with companies via inbound voice calls. To manage inbound calls, companies need call center technology with several features including prerecorded message playback, virtual queue with callback options, dropped call conversation continuity, call transcription and more.
Routing Technology
This vital feature enables automatic distribution of inbound calls to agents. Incoming calls can be routed in several ways to improve call center efficiency. With skills-based routing, inbound calls are redirected to the most suitable agent for the customer's issue.
For instance, multilingual call centers can create distribution rules that redirect calls to agents based on language proficiency. Calls from French-speaking customers are routed to French-speaking customer service reps. Skills-based routing can also be used to route customers based on their line of inquiry. A customer who calls to set up an account or has questions about billing will be handled by an agent well-versed in these areas. Another agent handles calls from customers experiencing technical issues.
Dialing Modes
In a blended call center, not only do agents receive inbound calls from customers but they also make outbound calls. While the latter is typically used for sales purposes, it delivers immense value when used strategically as part of customer support operations. The different dialing modes for outbound voice in call centers include:
Manual
Automatic
Preview
Progressive
Predictive
These dialing modes can be used in conjunction with the virtual queue callback option outlined above to improve the efficiency of outbound dialing campaigns. Predictive and progressive dialing modes automatically dial numbers from an agent's prospect list, monitor the progress of the call and only connect the agent when the call is picked up by a human.
Virtual Queue
This feature helps call centers to improve customer satisfaction by decreasing average handle and wait times. When customers call, they are placed in a queue and given the option of leaving a callback number. If they do, they can hang up the phone. When they are next in line, a customer service representative gives them a callback.
This means fewer dropped calls (due to long waiting times) since customers no longer need to be kept on hold.
Personal Routing
Some call center technologies allow companies to set up personal routing. When the call center receives subsequent calls from a particular number, the contact information of the caller is pulled from the CRM or case management software. The software then routes the incoming call to the agent that handled the caller's previous inquiries.
Priority Routing
Call centers may assign higher priorities to certain customer segments. You can choose to route preferred customers to more experienced agents using a high-priority queuing system with shorter wait times.
IVR
The IVR is a self-service channel deployed by call centers to manage inbound calls from customers. IVRs can handle routine customer service inquiries by providing callers with a series of menu options or asking certain questions. Based on a customer's response and preference, the IVR routes the call to a live customer service representative.
Call centers can implement conversational IVRs by leveraging speech to text, natural language processing (NLP), natural language understanding (NLU), machine learning and artificial intelligence (AI) technologies.
Contact Center vs. Call Center: A Comparison
Although call centers do provide a viable way to interact with customers, they've become rather obsolete in the face of new technological trends. Contact centers offer additional channels of communication and allow customers to interact with their favorite brands via their favorite channels.
Let's explore some of the key differences between contact centers and call centers.
Service Channels
The major difference between contact centers and call centers is the number and variety of service channels through which agents render assistance to customers. Contact center channels include voice, SMS, webchat, email, social media, video chat and more while traditional call centers communicate exclusively by telephone. Omnichannel cloud contact center technology provides companies with a way to handle and manage these disparate channels in one integrated workflow.
Essentially, call centers handle only voice communications while contact centers handle all kinds of communications.
Predictive Customer Service
Contact centers have evolved beyond answering inbound requests. By leveraging advanced tools and analytics to observe buyer behavior, customer service reps can reach out to customers and offer solutions to possible problems they may run into. This prevents issues from escalating and makes for better customer experience. For instance, contact center agents can track signals such as dead clicks or rage clicks on websites and reach out to assist the customer.
Traditional call centers lack the sophisticated technology to monitor and predict customer service issues as effectively as contact centers. As such, they are equipped to deliver only reactive support to customers. For outbound messages, agents can only reach customers through their phone numbers—an approach that's often ineffective. Some customers may provide only their home phone numbers and cannot be reached if they are at work or on the road. Also, customers may be skeptical about answering calls from unfamiliar numbers.
Efficient Queue Management
Contact centers are equipped with features such as omnichannel queue management and advanced call distribution technology to manage inbound interactions from all channels. These features enable managers and admins to view incoming requests on a single platform and efficiently distribute workloads to agents on their team. Similarly, agents can handle customer interactions coming in through all channels from a single device.
Long Wait Times
Call centers have a well-deserved reputation for long wait times. In the past, a company's support team could only be reached through calls, and agents were typically too few to handle the large volumes of inbound calls. When customers finally got through, agents were sometimes unable to render the needed assistance and would have to reroute the call to a different agent or team.
Thanks to call distribution technology, this is no longer the case. Calls can be routed to appropriate agents based on criteria like agent skills, keywords and previous customer history.
Also, contact center technology allows chatbots to be connected to a knowledgebase and embedded into self-service portals. This eliminates wait time and provides customers with near-instant answers to routine questions. For more complex inquiries, the chatbot knows to escalate the issue to a live agent who gains prior knowledge of the issue by going through the chat. This makes for a seamless experience since customers do not have to start from scratch with the live agent.
Why Contact Centers Are the Future
Due to evolving customer expectations and demands, delivering omnichannel customer experience is no longer an option for businesses—it has become obligatory. Setting up a contact center to handle your sales and support needs gives you room to focus on what you do best: developing and delivering better products and services for your customer base.
Contact centers provide companies with a 360-degree view of customers. When integrated with CRM software, contact center solutions aggregate customer data from across all channels to paint an accurate picture of the customer journey. With this, companies know what areas need to be improved to provide stellar customer experiences.
You can also integrate contact centers with marketing automation platforms and team collaboration tools to extend the reach and capabilities of your solutions.
When it comes to managing customer service, companies need to keep up with the times. Since the quality of customer service is a significant differentiator, companies need to leverage the omnichannel capabilities of contact centers to drive engagement and improve customer experience.
Wrapping Up
8x8's cloud contact center solution is designed to deliver unparalleled customer experience and satisfaction. It's an internal communications hub that helps your customer reps swiftly and optimally manage customer interaction from any channel. Admins can manage contact center operations from a single touchpoint. Plus, they can access real-time reporting and analytics from their device of choice.
Take advantage of 8x8's Contact Center to reduce the cost of handling customer service inquiries in-house. With an amazing range of customer care features, you get to enjoy a unified, cost-effective solution that's built to fit your current and future customer service needs.
Call centers rely on their technology to empower them to be as productive as possible. With 8x8's Virtual Contact Center, you get world-class technology and everything your call center needs in one place. Call 1-866-879-8647 or fill out an online form to request a no-obligation quote from an 8x8 product specialist.