Contact Center Quality Management the SAFE Way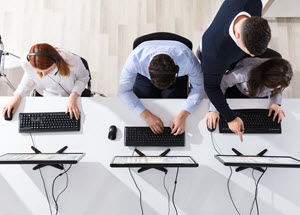 In part one of my three-part series about improving quality management in the contact center, I provided 3 Tips for Building an Effective Quality Management Program. For part two, I'll look at how companies can implement a structured approach to coaching to help contact center agents reach their full potential within the company and enhance the overall customer experience.
As businesses strive to attract the top talent and compete to find motivated individuals, the qualified applicant pool has become increasingly scarce. This is especially important in the contact center, which traditionally has some of the highest levels of employee turnover. To combat this problem, it is more important than ever to ensure you are maximizing the productivity of each and every one of your contact center agents.
As an additional benefit, providing proper guidance conveys the underlying message that employees are an important part of the team. When agents feel valued, their motivation to contribute and their perspective on the company dramatically changes. Because of this, a small investment of time can have exponential effects on decreasing turnover rate and increasing productivity and most importantly customer satisfaction.
Investing in the development of personnel can help you improve the ROI of each and every hire, and each and every customer interaction. Whether training new employees or developing existing ones, it is helpful to use the SAFE method when coaching them.
The SAFE Coaching Framework
Summarize observed behavior(s)
First, identify one or two behaviors to focus on. Attempting to squeeze too many behaviors into one session can confuse employees, resulting in them not learning anything at all. To prevent this, examine one or two with the agent that represent coaching opportunities or reinforcement of strengths..
Ask for input
Sometimes reminders and praise do not facilitate a 2-way dialogue. However, actively engaging agents in performance management sessions will help clarify root issues and will increase a sense of ownership in achieving desired outcomes.
Formulate a plan
Based on the behavior to be continued or corrected, the coach should propose a plan of action that is specific and measurable. To facilitate the process, the coach should ensure that the agent has fully grasped the specific actions to take and has the necessary tools to implement the ideas.
Express thanks
Regardless of the agent's success in meeting expectations, the coach should express gratitude for the agent's efforts.This can serve as a powerful motivator for the agent to continue improving even without an overseer checking on progress.
Effective coaching can help maximize employee potential and significantly improve contact center effectiveness. Read about the SAFE method, coaching and quality management in the contact center in the ICMI Tool Kit: Quality Management in the Contact Center.
Also get a view from the trenches in this webinar with industry analyst Sheila McGee-Smith as she leads a discussion on the insights and discoveries gleaned from companies that move from legacy on-premises systems to Contact Center as a Service (CCaaS) solutions.