Companies Use Cloud Call Centers to Show How Virtual They Can Go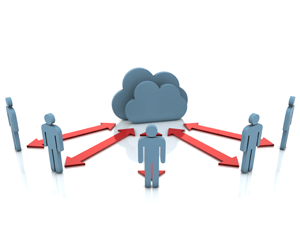 In our ongoing blog series on how the Internet Cloud is making call centers a great new option for small and mid-sized businesses, we mentioned the benefit of uniting a company and even its outside partners under one phone system. A virtual call center can connect a company by integrating a central office with outsourced locations, partners and remote offices, providing benefits both for workers and the customers they are serving.
"Using VoIP over the cloud helps us run and configure our call center remotely," says Northstar Technologies' Aijaz Asif. "We have offices in multiple locations, and the 8x8 VoIP cloud allows us to have one solution for all locations and even for employees working from home," he says.
Some firms have exploited the capability to unite and integrate workers into one system to the extreme—with a mostly virtual company. For example, Direct Interactions, a company that recruits and places veterans, made a deliberate choice to go virtual, both because that choice fits with the company's mission and values, and because it makes great business sense.
"Especially in today's economy, and for the future of our country, it's important to keep jobs in the US. Our business is cost-competitive and environmentally sustainable because all of our employees work from home, explains Jonas Nicholson, CEO of Direct Interactions. "With a virtual call center, there is no need for a centralized, physical call center location that limits the talent pool and creates unnecessary overhead. With 8x8 Virtual Contact Center, problem solved."
Think about it: Could your company—or at least part of it—go virtual? Or maybe it already has.