CXOs: Communications Analytics Will Amaze You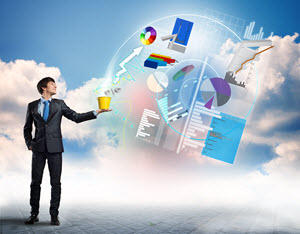 CIOs and CEOs are starting to realize just how much their outdated communications systems can hold back their business. It's not just about missing the latest new features or technology. It's about hampering collaboration, mobility and even business insight.
At the same time, a new generation of technology promises to turn phone systems into data-driven business advisers, making it easier to understand how business is really going—even at offices and operations centers half a world away. It's a trend that accelerated this week with 8x8's introduction of its Virtual Contact Center Analytics package, which provides global insights into an organization's customer experience and helps manage contact centers more effectively.
New Analytics Make Management Easier from the C-Suite Down
With use of both Big Data and cloud communications on the rise, managers at every level—from CIOs and line-of-business managers to workgroup supervisors—are getting new tools to better manage teams and workload efficiency. Early reports show that Big Data insights—provided as cloud communications add-ons—are winning enthusiastic converts and giving these enterprises a big competitive edge.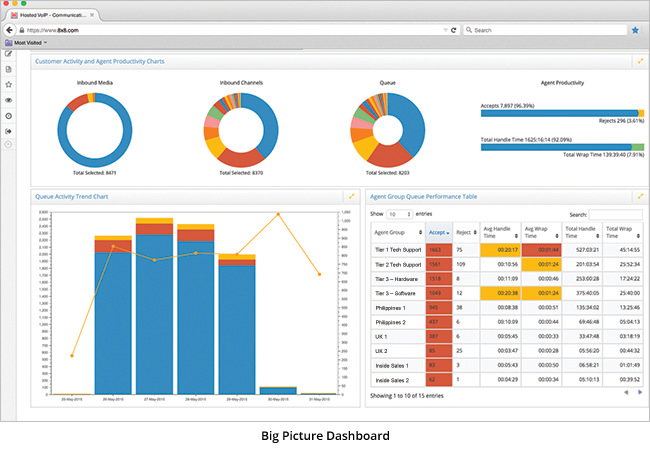 'Incredibly Invaluable Reports' in Dashboard Formats
"We now get daily reports that are just incredibly invaluable," says Jerry Howard, VP of IT at Irving Materials. A longtime 8x8 cloud communications customer, Irving Materials was an early adopter of the analytics capabilities offered by 8x8's Virtual Office Analytics.
"It's basically our dashboard for how the system is performing," he says. "They list the number of calls, the ones that were good, the ones that were poor, and where those calls were placed so that we can do follow-up calls." These tools can be accessed on a mobile device, so no matter where you are, you can stay current with performance metrics.
Unexpected Benefits Prove 'Very Interesting' to Production Managers
Howard says that the information has had several unexpected benefits, as managers throughout the company realized how helpful its communications information could be—especially when presented in graphical, easy-to-understand formats.
"We have several production managers who've expressed an interest in something we've never had before, and that's getting call volume reports," says Howard. "They're very interested when they have a plant that says it's really busy, but they're only getting 15 calls a day. So this is a way to help gauge our business and help our management team get an idea of the traffic that's coming into our different locations."
Other companies are having similar experiences.
Real-Time Data 'Blows Away' the Competition
"I've worked with Virtual Office Analytics, and it's simply a fantastic tool," says Ron Godine, IT director at TMW Systems, a leading provider of enterprise transportation management software.
"We're now able to see the activity levels of queues, extensions, etc. in real-time. This blows away anything the competition is able to provide," Godine explains.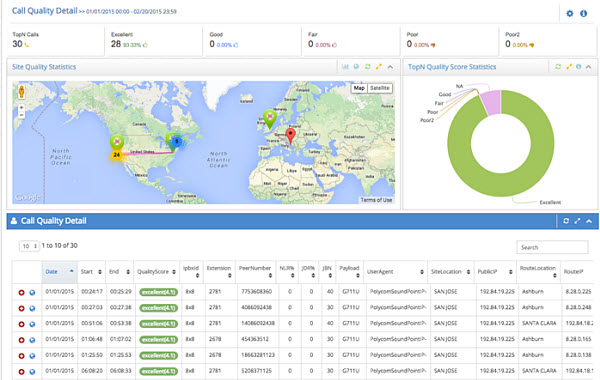 Communications Analytics: A Growing Trend
The use of communications analytics to help managers take the pulse of their companies in real-time is a trend that's expected to continue, analysts say.
"As more and more enterprises migrate their communications infrastructure to the cloud, demand for these tools and other adjunct capabilities that support strategic business initiatives and growth will become increasingly important," says Elka Popova, North American Program Director, Unified Communications & Collaboration Information and Communication Technologies at Frost & Sullivan.
What You Don't Know Can Hurt Your Business
If your communications system isn't providing your team with the tools they need to manage worker productivity, customer experience and system performance, your business risks losing out to competitors who do have these tools.
Click here to learn how to flip your communications system from a liability to a competitive advantage.