Come See Us at Customer Contact Week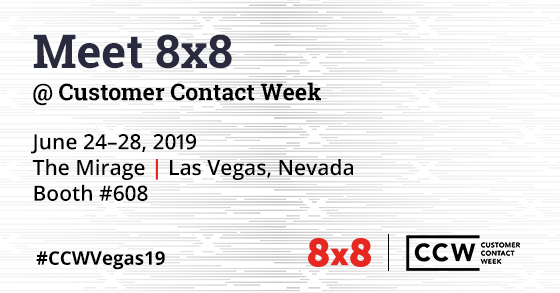 We're gearing up for a big event at Customer Contact Week, taking place June 24 through June 28. Come see how 8x8's cloud-based communications technology can bring your contact center into the future, provide customers with multiple channels to interact with agents, increase agent effectiveness, improve customer experience…and still cut costs. 


Here's how to connect with 8x8 at Customer Contact Week.

Visit Us at Booth 608 & See 8x8 in Action
Our booth will be staffed by our contact center experts, who will be available to answer any questions as well as talk about some of 8x8's unique contact center functionality. And make sure to stop by for our daily giveaways including the infamous Claw.

You can also check out some of our demos:
8x8 Contact Center
We'll be running side-by-side demos of 8x8 Contact Center that allow you to simultaneously see what the agent sees and does on his or her side of the interaction and what the customer experiences on the other side.

8x8 Speech Analytics
You'll also see 8x8 Speech Analytics in action—see how using artificial intelligence and speech analytics give contact center managers the ability to dive deep into customer sentiment, pain points and business opportunities.

Salesforce & Other CRM Integrations
Next, there will be demos on integrating Contact Center with Salesforce and other CRM systems. These integrations can save agents time while providing better context for customer interactions—and making it possible to track interactions over the entire customer journey to identify bottlenecks or opportunities to improve services, improve customer retention or upsell customers.

8x8 Intelligent IVR
Lastly, there will be demos on 8x8 Intelligent IVR. Intelligent IVR uses natural language processing to give callers a hands-free way to interact with the IVR—and it can understand phrases, not just individual words. This demo will show how contact centers can use Intelligent IVR to improve customer service while reducing the workload for agents in the contact center.

You can also always come by to talk with experts at our discussion service bar, or make an appointment in advance by emailing events at 8x8 dot com with the subject "CCW".


Age of Learning Delivers an Exceptional Customer Experience: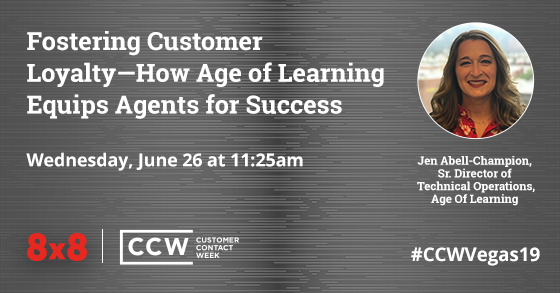 8x8 Customer Age of Learning will be sharing how they delivered an exceptional customer experience on Wednesday, June 26th at 11:25am. Jen Abell-Champion, Senior Director of Technical Operations at Age of Learning, will talk about how using 8x8's cloud-based contact center allows Age of Learning to deliver an exceptional customer experience every time.

Are you attending CCW? We want to meet you! Setup a meeting with 8x8 at CCW by emailing events at 8x8 dotcom with the subject "CCW".

Whether it's at our booth or at a speaking session, we look forward to connecting at Customer Contact Week! If you'd like to make sure you get one-on-one attention from our experts, book an appointment here. Otherwise, feel free to stop by, ask questions and meet your peers anytime.