Cloud Unified Communications Helps With the Problem Everyone Wants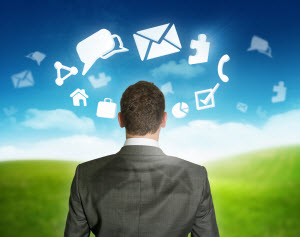 Rapid growth and expansion is the problem everyone thinks they want. But managing it can be a lot tougher than it looks.
Collaboration is simple when everyone works just down the hall from each other. Growth can complicate things. More offices. More telecommuting. More traveling. Growth is good, but can make communication and collaboration more challenging.
So how do you recapture that "just-down the hall" teamwork when your employees are here, there and everywhere?
Cloud Unified Communications Give You That One-Company-One-Vision Feeling Again
Cloud-based unified communications can help even large companies keep their teams collaborating effectively. Unified communications ties everyone together with a single interface for all of their communications needs—meetings, faxes, phone calls, chat, and customer interactions.  And because it's delivered over the Internet as a service that's maintained and upgraded by the service provider, it's inexpensive enough not to place additional strains on budgets that might already be strained by other needs of expansion.
That's certainly the case with CST, a leading container manufacturing firm. "CST is one team with one vision," says founder Yusuf Abu-Hatoum. "With 8x8, we can have one phone system that keeps all of us connected."
BottomLineGrowth's founder and CEO Rey Marin says that even though his business has expanded quickly in recent years, his 8x8 system ties everyone together. "We still have a feeling of physical connectedness with our teams, as I am able to just pick up the phone to speak to them, have calls transferred to me, and hold conference call meetings as often as I need."
Cloud Unified Communications: One Service, One Bill
Having choices can be a great thing. But for some companies, the management hassle of letting every office choose a different phone service can be overwhelming. It can also hide the true overall cost of having separate phone, fax, meeting and customer communications systems (such as contact centers). What might look like individually decent deals might add up to much more than one system that does it all, for all locations.
Typical is the experience of Darren Canada, head of the D. Canada Financial Group at Raymond James Financial Services, Inc.
"We have five locations in Southern California," explains Canada. "Before using 8x8 for our communications needs, we had five different phone bills from four different providers: Verizon, Cox Cable, Time Warner and AT&T. "8x8's platform allowed us to consolidate our phone service down to one provider and one phone bill—and with more than a  50 percent reduction in cost."
Also, says Canada, consolidation onto one platform has brought additional payoffs as well. "Our offices are now interconnected with intercom, separate extensions, a robust voicemail system, voicemail-to-email, convenient auto attendant, and many more features that have enhanced the quality of our customer service, increased our productivity, and made our lives much, much easier. "
And when people's lives get easier, they can enjoy the problem they've been chasing all along, and revel in the growth their hard work has earned.