Cloud Contact Centers Make for Happy Holiday Workers and Customers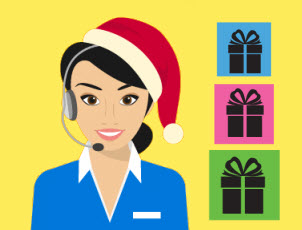 'Tis the season for customer service and telesales departments to go into overdrive, answering questions, handling returns and even booking new business. Those that prepared earlier in the year—upgrading their phone systems and call center software to full-blown VoIP-based contact centers—are now reaping the rewards.
"We went from a very broken phone system in our contact center to 8x8 Virtual Contact Center a few months ago and it was the best choice ever," says Ally Hollenbach, manager of technical service for Peak Web LLC, a web hosting company.
Better Reporting Makes for Cheerful Managers
"Our customers are happy and we are happy to be able to provide the level of service they deserve. As the manager of our customer service department, I can say my job is now so much easier with the reporting and caller data available in Virtual Contact Center," says Hollenbach.
Hollenbach also says the transition to a contact center was easy and painless.
"Our entire company uses 8x8 Virtual Office and has for several years, so moving the contact center to Virtual Contact Center was an easy and seamless transition."
And Rewarding the Elves is Easier, Too!
People who sell awesome vacations know that incentives make the work of "the elves" (who sell them and put them together) more productive—and fun.
"I work with WMPH Vacations, which stands for 'We Make People Happy'," says Ericka Walker, client services manager at the global company. The company started using 8x8's VoIP-based Virtual Contact Center several years ago, and she says the cloud-based communications software has really helped the company offer a broad range of rewards.
"I started use the reporting tool daily, and it has been great  for my department," she says.
"I take the information from the report to post their daily phone stats, so they look forward to seeing how well they all did at the end of the day. It has made them a little competitive with one another, but it has made the phones fun as well."
Customer Service Now Gets Its Own Rewards
She explains that she's been able to set customer service goals in addition to the sales goals that the company has used for years. Now, customer service can be rewarded for its good work, as well.
"Prior to using 8x8, the incentive was based on the cabin count and sales goals, because we really had no way of consistently tracking our Client Services phone statistics, so their own work was not something we could reward them on," she says.
"Now that we have 8x8, we have been able to implement this incentive based on a team and individual effort," she says. "Customer service reps can now challenge themselves monthly and try to improve individually as well as a team in order to earn this extra bonus at the end of the month."
"On top of that, I have also been able reward people in our department, on percent of calls accepted and give out a little more based on that information. We have been able to really increase our service levels as a team and individually using 8x8. I continue to try and use different features it offers to better our service individually and as a company department," says Walker.
For many companies, being able to respond to changing customer service levels and reward outstanding service is a game-changer. Learn how to up your game here.