Cloud Contact Center Software and WFM vs. the Real World: Who's Winning?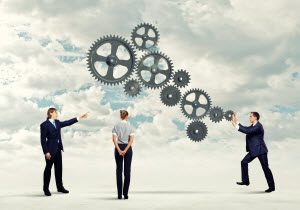 Henry Cooke once observed that "Life is what happens to us while we are busy making other plans." This clash between the ideal world we plan for and the real one we all live in is a given in call center software-based workforce management. Even the best plans or schedules can be trashed by customers who call at the wrong time, or by those whose problem doesn't follow the script. Throw in the vagaries of scheduling and a workforce made up of people, not robots, and there's a high potential for all kinds of management and scheduling headaches.
Cloud Call Center Software Mashups that Handle the Real World
That's why one of the hottest areas of innovation in customer service involves mashups of cloud-based call center software with programs for workforce management and quality management. Companies are realizing that their brands can live or die by the perceptions of customers who call support lines. And the revenue generated by outbound call centers can often make the difference between a great sales season and the wolves at the door. Those are just two of the many reasons why companies are trying to manage their contact center workforces better, and they're turning to call center software mashups to do it.
For example, 8x8's Virtual Contact Center mashup with Teleopti brings real-life predictive scheduling for large contact centers. Big companies have often integrated such programs themselves, often spending months and lots of their own resources to achieve integration. But the cool thing about the cloud is that these two companies have already done the work, so getting their combined power is just a matter of buying the feature and turning on the capability. They already work together from the get-go, if you choose the option for your call center software.
How Does the 8x8-Teleopti Call Center Software Mashup Work?
Teleopti's cloud-based workforce management software starts by taking information from 8x8's Virtual Contact Center and using it to predict agent workloads. It builds staffing models to ensure that enough agents are always available and have the expertise needed to handle the questions customers are likely to ask. The software helps managers build and manage complex schedules that ensure the best coverage by staggering breaks and start times. 
A snapshot of what is going on in the contact center helps supervisors see who is doing what, and whether they're working to plan. 8x8 provides Teleopti with call history information to tune the Teleopti utilization model. The more historical information that Teleopti has, the better its ability to predict your call load patterns—and the smarter your staffing can be.
8x8 provides Teleopti with a live feed of what agents are doing. The utilization map helps managers see who is doing what, and how what they're doing supports the plan and the schedule—or doesn't.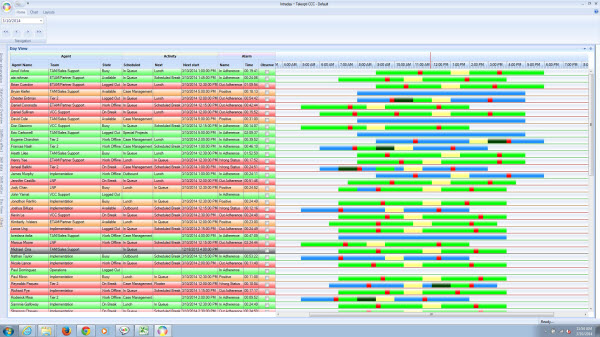 In this example, most agents are sticking to the schedule, but some aren't. Some, for example, should be answering calls and aren't, while others are working through their breaks to finish calls, but will soon need someone to take over for them so they can take a delayed break. Managers can use this view to flag problems and proactively manage their call centers.
The Best Part: Call Center Software Mashup Learns from the Real World
But perhaps the coolest part of the mashup is that Teleopti's predictive scheduler learns from the real world, and the schedules get progressively closer to reality. If, for example, Monday morning is a particularly heavy day for customer support, Teleopti can recognize that and staff accordingly. Not only does this help manage the call center; it makes call centers run much more smoothly, with a lot less wear-and-tear on everyone.

The value of this is easy to understand when you realize that about 75 percent of a contact center's costs are manpower-related and IT only makes up approximately 25%. By maximizing the efficiency of the workforce's performance, many organizations have seen savings of up to 25 percent of their contact center costs—all while pleasing their customers through more consistent and reliable response times.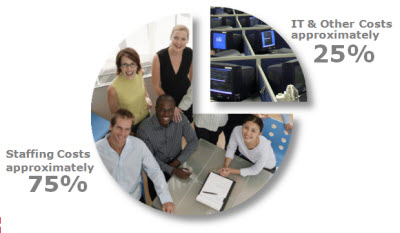 And because 8x8 supports global communications, it doesn't even matter if all of your workers are in the same location—or even if none of them are. It's possible for some or all of them to be working remotely. Workers stranded by bad weather have even been known to work their shifts in airports using 8x8 Virtual Contact Center.
Teleopti can also integrate with ADP or other payroll systems to automate time card entry and payroll input, taking even more of the rote day-to-day tasks off contact managers' to-do lists and making time card and pay management a lot more automatic.
Increasingly, cloud software providers like Teleopti and 8x8 are teaming up to help contact centers take on the real world. To see how the 8x8-Teleopti's workforce management capability might help you better staff your contact center for real-world needs, check out the 8x8-Teleopti workforce management solution.