Cloud Computing Demystified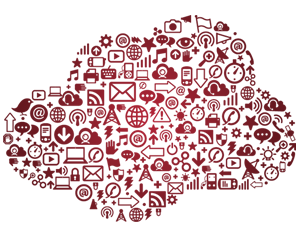 "Cloud Computing," sometimes used interchangeably with "Software as a Service," is the industry buzz word du jour. But what does it really mean? At its most basic level, the term refers to data or software that is accessed via a computer network and doesn't reside on a local computer. It is software or data accessed outside the Local Area Network and hosted by a service provider.
Some define Cloud Computing as an updated version of utility computing: basically virtual servers available over the Internet. That is, a server that shares resources with other virtual servers. In this situation, virtual means that it is not a dedicated server. Others define it as anything on the computer network consumed outside the firewall, including conventional outsourcing.
At 8x8, we define Cloud Computing based on five attributes:
Multi-tenancy – Cloud computing allows multiple users to use the same resource at the network, host and application levels. There are no dedicated resources as with a dedicated server.
Massive scalability – Cloud computing provides the ability to scale to tens of thousands of systems and to massively scale bandwidth and storage space.
Elasticity – Cloud computing allows users to rapidly increase and decrease their computing resources and to release resources for other uses when they are no longer needed.
Pay as you go – Cloud computing allows users to pay for resources they actually consume and only for the time they were consumed.
Self-provisioning of resources – Cloud computing allows users to self-provision resources such as processing capability, software storage and network resources.
Cloud Computing services can be categorized the following ways:
Software-as-a-Service (SaaS)
SaaS is the most mature, widely known, and widely used Cloud Computing service. SaaS is a software distribution model in which applications are hosted by a vendor or service provider and made available to customers (end users) over the Internet. Customers do not purchase software, but rather rent it for use on a subscription or pay-per-use model. Sometimes SaaS may be offered free. Typically, SaaS is complete from a software, hardware and support perspective. SaaS is the most mature type of Cloud Computing because of its high flexibility, proven support services, enhanced scalability, reduced customer maintenance, and reduced cost due to its multi-tenant architecture. Examples of SaaS include Salesforce.com, NetSuite, Yahoo mail, Google Docs and 8x8 Virtual Office.
Platform-as-a-Service (PaaS) 
PaaS is a nascent Cloud Computing service in which the vendor offers an environment for the development of applications and the provisioning services through the vendor's platform. The vendor develops toolkits, standards for development, channels for distribution and payment. PaaS provides infrastructure on which application developers can build new applications or extend existing applications without the need to purchase development, QA, or production server infrastructure. PaaS enables rapid propagation of software applications, given the low cost of entry and the leveraging of established channels for customer acquisition. Examples of PaaS include Salesforce.com's Force.com, Google's App Engine, and Microsoft's Azure. 8x8 has utilized Force.com's PaaS environment to quickly build the 8x8 Virtual Office Salesforce Integration software to provide 8x8 customers with Computer Telephony Integration capabilities. For more details on this, click here.
Infrastructure-as-a-Service (IaaS)
IaaS is an evolving Cloud Computing service which provides data center, infrastructure hardware and software resources over the Internet. Vendors provide the entire infrastructure which include hardware such as a server, operating system, disk storage (and sometimes database software and messaging resources) for a customer to run their application. IaaS helps customers handle the peaks and troughs of their demand. IaaS has also introduced usage and billing models wherein customers only pay for what they need at any given time. Examples of IaaS include Amazon EC2, Terramark Cloud and 8x8 Managed Hosting Services.
8x8 Cloud Computing Services
8x8 provides both SaaS and IaaS Cloud Computing services. Our Virtual Office SaaS solution provides hosted VoIP phone service with enterprise class features, web conferencing, call recording, Internet fax, online management and more to over 24,000 business customers. 8x8's IaaS solution provides Managed Hosting services for all business IT needs. Businesses tired of dealing with in-house servers or looking to lower operational cost while maximizing their efficiency turn to 8x8 for their hosting needs. 8x8 allows businesses to focus on what they do best while 8x8 manages and maintains business infrastructure 24×7.