Cloud Business Phone Service Makes for Faster Changes, Easier Growth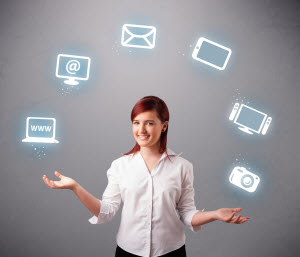 For successful businesses, you'd think that switching business phone service providers would seem about as appealing as a root canal.
Yet there's a lot of evidence that enterprises are increasingly switching to cloud-based services, ditching their PBXs and abandoning last-century business phone service providers in ever larger numbers.
So why would these companies switch their critical enterprise communications to VoIP (Voice over Internet Protocol)?
Surprisingly, one of the most frequent responses is the ease and speed of making changes with cloud-based business phone service. These businesses want to control their own destinies—not hang on a customer support line or wait for someone to come patch an aging on-premises PBX or dink around with their fax or meeting services. Because cloud services can be administered by the provider and updated using a simple online interface, it no longer takes specialists to make changes. Almost any computer-literate office manager can take care of most changes.
"The simplicity of change management using a cloud-based solution was eye opening," says Ron Godine, IT director at TMW, a large transportation firm. "Previously, we had to involve substantial internal IT resources plus hire outside consultants to make simple moves, adds or changes to our business phone service. With cloud services, someone on my IT staff can quickly and easily execute all of these changes online. This enables us to focus our attention on the tasks that are core to our business rather than our back-office functions."
That was also the experience of Sarah Lobdell, VP of operations at TKO Industrial Coatings.
"My old company switched to 8x8 and got rid of our PBX system. We finally had full control over our system instead of needing to call someone to do something as simple as adding or deleting a voicemail box!" she says.
Some companies particularly love being able to add new people and offices quickly and easily. "Cloud-based business phone service is the perfect solution for a dynamic, fast-growing, geographically diverse organization like ours," says Jason Sparks, nationwide IT director at Enroll America. "I can drop-ship a phone to a new location and get them up and running our phone system in minutes after the phone arrives. We love it!"
So if your company is changing so rapidly that nobody has time to wait for changes to your business phone service, cloud-based phone service might help you take back control of your own growth. As Sheryl Crow used to sing, a change might do you good.