Changing the Channel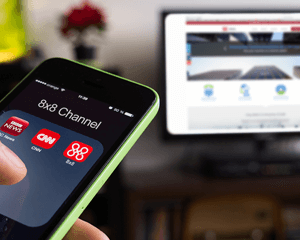 After ten years of building and running the Cloud Program at Insight, I recently decided to make a life change. For my next adventure, I wanted to find a new productive intersection of my passions—where Cloud, Channel and Marketing Enablement converged. I didn't have to look very far to see the opportunity with 8x8 and the pace of the enterprise communications space. Call it what you will; Cloud-based telephony, VoIP, Hosted PBX, Unified Communications-as-a -Service (UCaaS)—and what 8x8 calls Enterprise Communications-as-a-Service (ECaaS). Without a doubt, this space has never been more exciting than it is now. And with its customer adoption rate in overdrive and impressive trajectory—I'm in.
Customers of all sizes are adopting these turnkey communications services at, well, "customer speed," and the market is hitting a hockey-stick inflection point. The economics are too compelling to ignore, with clearly visible cost savings and significantly reduced hard costs. A single management console is a significantly easier way for an administrator to make changes to remote location features and functionality instantly. However, probably the most compelling reason for adoption is the significant potential for business agility. Enabling enterprises to run at the speed of their business and their customers' business, unencumbered by legacy infrastructure, is an incredibly effective driver for increased market adoption.
The Enterprise Re-imagined
It is amazing to watch the progression of enterprise customers adopting cloud-based communications solutions. What used to be a service relegated to companies with under 500-employees just a year or two year ago, is now servicing companies with 10,000+ employees. In fact, just last week 8x8 announced a global deal with Regus, the leading global workplace provider, to deploy cloud-based enterprise communications service. Regus selected 8x8 for the company's innovative technology roadmap, global presence, business mobility, call quality and robust delivery features to help them effectively and securely run their worldwide communication and collaboration service. Just think of all the channel possibilities with this type of enterprise customer adoption—and this is just the start!
And it's not hard to see why 8x8 is one of the cloud communications companies leading the enterprise cloud migration charge:
Named a Gartner Magic Quadrant leader for four years running
Leads the market in security & HIPAA compliance
Offers a global footprint /global reach
Delivers a continuous communications experience from mobile app to desktop
Provides an enterprise-grade solution with 8x8's Elite Touch™ rapid enterprise onboarding program
8x8 is even starting to redefine what ECaaS truly means for customers today. More on that front soon!
Now, all the pieces fit like a glove. The market progression, cloud adoption initiatives and customer requirements have all evolved to make the timing undeniable and perfect, and it's time to make our move. 8x8 is ready. One of my main charters as part of our channel strategy is to help build and expand the 8x8 channel marketing and partner enablement programs on a global scale. Our purpose is to provide our growing number of partners with the best programs to build and maintain a thriving, profitable business, and provide the best communications solutions for their customers.
Channel Surfing
The 8x8 partner community is gathering amazing momentum and 8x8 will soon share some exciting announcements. Our goal is to take the best of 8x8's past channel experience and cultivate and mature the 8x8 channel program so that it is world-class and second to none in the enterprise space.
We are looking for partners who want to place their bet on 8x8 as we move up-market and continue to raise the bar for ECaaS around the globe. In return, we will invest in them as true strategic business partners.
It's time to change the channel. Join us for the ride… Let's do this!