8x8 Celebrates 25 Years of Innovation in VoIP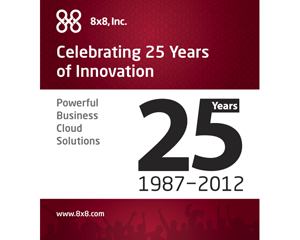 Today we are celebrating our 25th year as a communications technology innovator in the Silicon Valley. We want to warmly thank our customers, investors and employees for your support over all these years. Our journey began in 1987 when we started as a company called Integrated Information Technology (IIT). We quickly became a leading developer of multimedia semiconductors and video processing chips. Fast-forward 25 years. Today, we're a leading provider of cloud communications and cloud computing solutions. It's been an exciting ride so far. Here's how Rich Tehrani, VoIP industry expert and CEO of Technology Marketing Corporation (TMC) puts it:
"Having visited 8x8 frequently over the past decades I've been impressed at how the company has evolved into a major cloud-communications pioneer. This is a company that literally had to survive multiple telecom, tech and financial meltdowns and seemed to emerge from each stronger and better positioned for the next wave of growth. I salute Bryan Martin and the team at 8x8 for their perseverance and vision in not only surviving but thriving in one of the most turbulent business environments any company could possibly be faced with."
We are proud of what we've accomplished since 1987. Someone once said "It's ok to look back at the past. Just don't stare." The future is ahead of us.
We've been awarded 79 patents so far and continue to innovate. See where 25 years have taken us. Visit the 8x8 interactive timeline.