Catching up with 8x8's first UK Platinum Partner – du Pré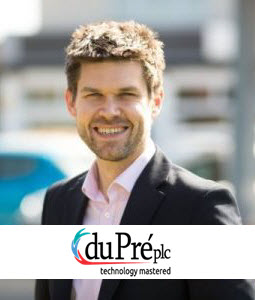 Earlier this month we're excited to have launched our enhanced channel Partner Programme in the UK, which builds on the success of the innovative programme we've offered our partners for many years now. As one of the first partners to take advantage of the programme, I caught up with Barry Anns, CEO of our first Platinum Partner, du Pré plc, to find out what his business has in store for 2016.
How would you describe du Pré and its place in the industry?
du Pré is a specialist voice, data, communications, and services company that provides solutions to mid-market and enterprise customers across the UK. We champion cloud-based technologies, focus on the supply and installation of managed hosted telephony and onsite telephone systems along with the associated business-grade connectivity services, as well as provide our clients with IT consultancy, networking and support.
Why did you decide to partner with 8x8 and how long have you been working with us?
Having worked with 8x8 for several years, we know that your technology is unparalleled. We pride ourselves on giving our customers the latest and best in cloud-based technology. With 8x8's support we've been able to do just that – especially as constantly evolving technology helps keep us ahead of the competition. The team at 8x8 is easy to work with and we know that you'll ensure our staff and customers are fully trained and can make the most of what the technology has to offer.
What are the main benefits you've seen from the partnership so far and what are you hoping for now that you are a Platinum partner?
Since we began working with 8x8, we've always valued having access to the 8x8 Academy. It gives us clear training, which attendees can refresh through regular webinars.
Now, we're thrilled to be the first Platinum partner to take advantage of the programme. In particular, we're excited about the boost that the strategic joint marketing funds and PR support will give to our profile as our business grows. The financial commitment from 8x8 is important as we can now stand shoulder to shoulder and take our respective businesses to the next level.
What are your plans for the future?
We want to continue to provide our customers with the best technologies available in the market. As communications technology continues to evolve and more and more competitive features become available, we expect to see increasing demand from our customers for cloud-based technology.
Naturally we have growth plans and hope to expand significantly over the next few years. Through our Platinum partnership with 8x8 we know that we now have marketing support from one of our key vendors to help us expand our business.
What do you see as the greatest opportunity for the channel industry in the next 3 – 5 years?
The greatest opportunity for the industry in the next few years will be to maximise the growing understanding of the power of the cloud. Currently, only around 30% of companies are using cloud-based communications so the potential is huge. As workplaces become more complex, flexible working becomes more commonplace and the number of connected devices we use on a day to day basis multiplies, the argument for robust cloud-based unified communications solutions will become even more compelling.