How to Use 8x8 Hosted Call Center Software to Help Callers Reach a Human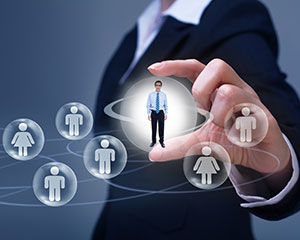 Have you ever been on a call trying to reach a live agent but ended up getting dumped into voicemail instead? After waiting and patiently pressing buttons to speak to a real carbon-based life form, being sent to an underqualified agent or dropped into voicemail irritates even the most saintly of customers.
And if your organization's goal is to always provide customers the choice of a live response, Virtual Contact Center—8x8's cloud-based call center software offering—helps you achieve it, with the skills-based routing feature.
Skills-based routing helps get calls to the people most likely to give quick, correct answers, minimizing customer frustration and reducing response time. The skills-based routing technology in Virtual Contact Center lets you define skill levels for agents, and 8x8's call center software logic then distributes incoming calls to agents based on these skill levels. You can specify call queues for different departments in your business, assign agents to these queues, and define the skill level of these agents. Whether the customer contacts your company via phone, a chat or email, you can deliver the best response to customers which can:
Improve customer service
Shorten call handling time
Increase agent productivity
Enhance customer experience
Setting Up Skills-based Routing with 8x8 Hosted Call Center Software
Let's look at a call center with a small number of agents handling both sales and support inquiries. Constrained for resources, the call center manager wants to configure Virtual Contact Center so that the hosted call center software makes sure all customers reach an agent with appropriate skills or at least get a live response. For optimum customer experience:
Begin by grouping your agents into two agent groups – one group qualified for support queries; the other qualified to handle sales queries.
Create two separate call queues, one each for channeling sales and support inquiries.
Assign your handful of agents to both queues so they can receive both support and sales calls.
Distinguish support group agents from the sales group by assigning them higher skill levels in the support queue. Assign sales group agents to medium skill level in this queue.
Similarly, assign the sales group agents a higher skill level in the sales queue than to people in the support group.
Add the store manager as a last-choice backup by assigning a low skill level for both queues. This ensures that the manager will only be chosen as a last resort.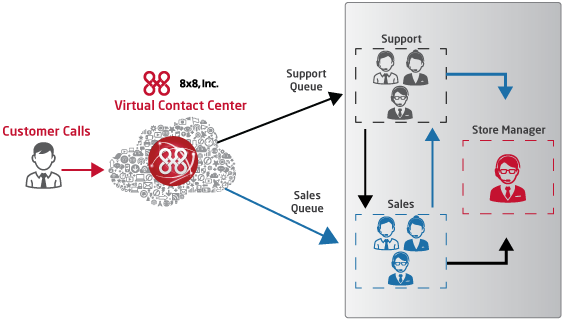 Call Routing in Virtual Contact Center
Using this configuration, the call center software first routes a sales-related inquiry to the sales group agents.  If these agents are busy, the call will then be routed to support agents with medium skill level. In the event all of these agents are busy, the call center software routes to the store manager for a live response. (See the diagram above). Thus support agents do not get a sales call unless sales agents are busy and there is an idle support agent and vice versa. You can set up similar queues for email and chat, since the call center software's logic works the same for those channels as well.
Assigning Skill Levels to Agents
Assigning skill levels is simple and takes just a few clicks. The easiest way is to assign skill levels while creating agents in the Configuration Manager. To assign skill levels to agents:
Log in to Configuration Manager.
Select the Agents tab.
Select an agent for editing.
In the Queues tab, select the skill level for each queue to which the agent is assigned.
Save the settings.

 
That's all you have to do. If planned and implemented well, using skills-based routing greatly enhances customer experience and distributes workload among agents. Virtual Contact Center can be your partner to achieve customer-centric goals.