Call Center Software Forecast: Cloudy with a Chance of WFM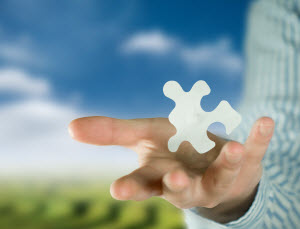 What a difference a year makes! Last year, so much of the debate surrounding cloud applications centered on the decision, "To cloud or not to cloud?"
This year, for many companies, that is no longer the question, as cloud-based apps not only get exponentially better, but start to integrate with each other in innovative, productive ways.
Which Applications Should Live in the Cloud?
The real puzzles on everyone's mind now are when to put critical business applications in the cloud, and which applications should live there. In the last year, integration among cloud apps has increased dramatically, making the case for Cloud apps stronger. For instance, Teleopti and 8x8 have just provided another reason to move both call center software and workforce management (WFM) applications to the Internet Cloud: integration. Here's how the new integration—which combines 8x8's Virtual Contact Center's call center management and reporting capabilities with Teleopti's predictive staffing software—works:
Virtual Contact Center sends historic call data—such as call lengths and wait times—to Teleopti to model and predict staffing requirements.
Teleopti models workflow and comes up with workers' schedules, based on an organization's resources, constraints and objectives.
Call center managers and workers can modify aspects of the schedule based on real-world needs.
Virtual Contact Center continuously feeds Teleopti status information to ensure that the contact center is running at optimum capacity.
One of the coolest aspects of the integration is that workers and managers can still update, modify, and even trade shifts and schedules, subject to the organization's chosen rules. This capability, when combined with the integration's mobile capabilities, could really change call center staffing.
Shift-trading From Anywhere—Even Your Local Pub
Consider this: Since the cloud is everywhere, you can now access your WFM everywhere. Even better, your agents can access WFM from everywhere, and they can make shift trades. This means that a manager could put out a call for extra help to workers' cell phones.  Or a worker could make a shift trade on his or her smartphone, while sipping a beer at a party, and almost instantly receive confirmation that someone else would staff the contact center at 7 a.m. the following morning, in exchange for a different shift some other time.
Should You Consider 'Clouding' Workforce Management and Call Center Software?
Of course, even before the recently announced integration between 8x8 call center software and Teleopti workforce management, many companies had already moved many of their critical functions to the cloud.
Hosted Call Center Software and WFM Inherit Many Cloud Advantages
For most of these businesses, the big lure of the cloud was the same regardless of the specific software. Whether it's CRM, workforce management or call center software, the nature of the cloud imparts greater flexibility, lower costs and the chance to let someone else handle maintenance and upgrades. This last advantage is particularly attractive. It means that when you work with a cloud vendor, you only have to worry about running your own business and making your customers happy, not managing software. In addition, for many companies, eliminating the large up-front expenditures and the long project lead times that go with hardware purchase, installation and integration were already a major driver of a general push to the cloud.
Cloud Worries Fall Like Raindrops for Call Center Software, WFM
Meanwhile, many of the general reservations that kept some IT directors on the fence about a cloud move have also been addressed. For example, security has long been a worry for all software, not just cloud-based apps. However, many decision makers felt particularly queasy about the prospect of not being able to oversee security the way they had with software running on their own servers, in their own data centers.
Many Security Advances Make Cloud Software an Easier Choice
But even as the early adopters moved to the cloud, companies like 8x8 were busy making security a priority. Lately, 8x8's been repeatedly recognized for it with such credentials as the Skyhigh CloudTrust "enterprise-ready" award and other security-and-compliance third-party validations. The result is that for many enterprises—those without an army of people devoted to security and to the care and feeding of their call center software or WFM apps—the cloud can actually be more secure than if your software lived on-premises.
Is the Cloud Right for Your Organization's Workforce Management and Call Center Software?
For most companies, getting workforce management from the cloud is the most cost-effective approach. If your organization has any of the following attributes, then the cloud is probably the best way to achieve WFM for your organization:
Your business has significant fluctuations in volumes – either seasonal or within a given day.
You want to "do more with less' and reduce IT staffing while continuing to offer the best value to your customers.
Your contact centers are diverse and distributed, or you have agents working from home.
Of course, any time a company makes process or software changes, it's good to take advantage of all available information. So if you think the Cloud might be in your company forecast, Teleopti and 8x8 are happy to provide advice and case studies showing what businesses similar to yours have achieved by moving their call center software and workforce management to the cloud. Now might be the right time to seize the advantages that the cloud can offer.