Call Center Software and the Zen of Customer Relationship Maintenance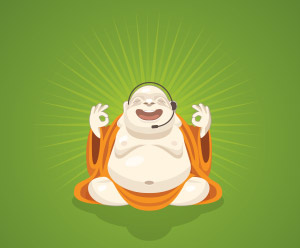 One of the most popular books of the 1970s, Zen and the Art of Motorcycle Maintenance, started with two men on a road trip and explored how mindset and experience affect the pursuit of quality—and concluded that an integrated approach to quality is essential. Well, what's true for motorcycles is true for hosted call center software, and nowhere is that more apparent than in the integration of 8x8's Virtual Contact Center with Zendesk.
Integrated Call Center Software—Not Just for Mega-companies Anymore
Until recently, integrations were expensive one-off propositions. For the past 20 years, I have been working at Genesys, IBM, Edify and other companies that provide integration and call center software and services to the world's largest organizations. These companies have long been able to provide custom integration of all kinds of software, to companies big enough to afford it, to help them understand their customers and leverage that understanding for repeat business, customer loyalty, and upselling.
The 8x8-Zendesk integration, on the other hand, proves you don't need to be a Fortune 100 company to provide your customers with great service.  These two cloud-based companies have both brought a wealth of different types of experience to the integration, and the result is even greater than the sum of the parts.
Great Call Center Software + Superb Ticket Management = More Satisfied Customers
8x8, with its Virtual Contact Center, has extensive experience in VoIP-based hosted call center software and unified communications, including managing queues for phone calls, emails or chat. Zendesk, on the other hand, is particularly strong in ticket management and managing the process of tracking and monitoring processes and outcomes after tickets have been filed, and deftly applies this expertise to the integration.
In true Zen fashion, these two companies have combined their strengths to help their client firms to craft wonderful experiences for their customers. The new 8x8-Zendesk integration does more from the get-go than any integration of call center software and customer service/CRM software that I've ever seen.
With no configuration required, the agent's ability to help customers is instantly increased, with:
Agents immediately see tickets associated with the number that customers are calling from, as well as other information that "pops" to the agent's screen when the call arrives.
If a customer has more than one ticket open, the agent gets a list of all relevant tickets and can either select the right one or create a new one.
If the number someone is calling from is not known to Zendesk, the agent is presented with a "Create Customer" screen and can add the ANI to an existing or new customer record, updating the database with the additional information.
The Zen of Customer Service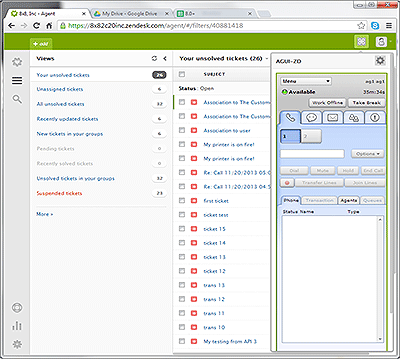 When the customer's information is readily available to the agent, customers can get their questions answered quickly and correctly, saving time and money. Now, even if you're a midsized organization, you can provide the sort of high-quality customer experience that builds loyalty, while your organization saves money through greater efficiency. No call center software maintenance, no custom integration fees, no upgrade hassles. Just the best of two great hosted solutions, rolled into one seamless package.
All of this is done from a single user experience for the agent, supervisor, and administrator roles:
All of the 8x8 screens appear as windows within the Zendesk environment.
Interactions can be delivered on any channel, including voice, chat, email and voicemail.
The 8x8 Agent screen fits well within the Zendesk desktop, covering very little screen space, and can easily be minimized to get access to the full Zendesk screen when needed.
8x8 reporting information is made available to the Zendesk environment to allow for full lifecycle reporting that includes both relevant customer contact information and the full history of any customer tickets.
Suddenly, the barriers between midsized companies and satisfied customers seem a lot smaller than they used to be. Rather than the painful integrations of yesteryear, when it often took several weeks for consultants just to define the use cases and understand the potential integration points, this integration is easy, thanks to 8x8's hosted call center software and ZenDesk's brilliant ticket management.
With 8x8 and Zendesk, the integration just works; you can start improving your efficiency as quickly as your agents are trained on the new, easy-to-understand interface.
And if you choose, 8x8 services are available to increase the odds that the right information will pop up immediately. A little optional custom design work can make the agent's tasks even more efficient by grabbing more detailed information from the customer records. The time saved by companies using the integration is enormous; even this type of "extra" customization takes only a few days, not months.
Finally, if you're already a Zendesk and 8x8 Virtual Contact Center Premium (or Pro) customer, the integration is free, included in the price of your existing service.
For more details visit the Zendesk app store, or to request assistance and information from 8x8, click here.