Business VoIP: We're Not (Just) in America Anymore, Toto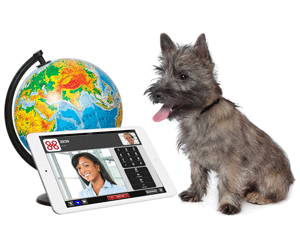 8x8 recently announced that it will partner with Interxion, a data center provider headquartered in the UK, to provide new location-based services in Europe.  So odds are that if you're an 8x8 business VoIP customer, when you make international calls from Europe, your communications will soon go through a shorter, better media path, optimized for your location.
At first glance, it might seem a little strange that such a quintessentially American company as 8x8 would announce a new data center in the UK.  Most of our customers are still based in the US and Canada, not the European continent.  And not only do most of the company's employees live in or near Silicon Valley, 8x8 has consistently bucked the trend toward outsourcing customer support, in favor of American workers.
But, like many of its business VoIP phone customers, 8x8 is increasingly an international company.  Our customers already make a huge number of international calls per month—with many more incoming calls following them when they travel. And many of them say that free or inexpensive international calls are what drew them to 8x8 in the first place.  They're traveling, they're getting international customers, and they're doing business with international companies—all placing higher demands on their business communications systems.
For example, Sheri Fazleabas recently told us how important 8x8's international business VoIP services are to her business, A & S Journeys.  "My work takes me to Asia, Africa and other continents. The 8x8 Virtual Office system has truly given me peace of mind as far as being in touch with my clients is concerned. When I'm traveling, my clients do not even know that I am overseas. I can get all my calls and my auto attendant works great for the time differences between the US and wherever I may be in the world."
For businesspeople like Fazleabas, the Interxion announcement means that new Geo Routing technology will dynamically routes calls to the nearest data center using location information, for better quality and optimal call routing.
"The Interxion data center not only enhances 8x8's geographic diversity with increased availability and redundancy, it also provides a local presence for our multinational customers that require a footprint in Europe," said 8x8 Vice President of Network Operations Mehdi Salour."
8x8 business VoIP is seeing growing interest from mid-market customers who are not only increasing their deployment of cloud communications and collaboration solutions in larger, distributed environments within the United States, but are also requiring a local presence internationally.
Recent customer comments indicate that 8x8 business VoIP customers appreciate 8x8's constant innovation. As Joseph Rodriguez, owner of Professional Images Photography put it, "I travel all over the US Canada and Mexico so having access to my phone is critical and necessary to be competitive. The technology and the support is what makes 8x8 a great company. We are in a digital age, and to stay ahead and separate yourself from the competition you have to constantly think outside the box, or in this case, out of the country."