Business VoIP Users Boldly Bend International Borders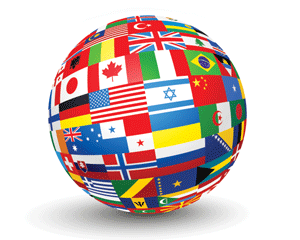 8x8 has just announced that it has completed its purchase of UK-based Voicenet Solutions. As many analysts observed, it's 8x8's third big push this year into international markets, following closely the recent offering of cloud-based business VoIP phone service, unified communications and contact center solutions in Canada, and SoftBank Japan's adoption and licensing of 8x8's Virtual Desktop technology.
8x8 Goes International and So Do 8x8 Business Customers
The expansion will bring 8x8 business VoIP services to many prominent businesses and government departments. Voicenet Solutions serves approximately 1,000 businesses including mid-sized, multi-location companies such as London Overground Rail Operations, operator of the London Overground train service, Empire Cinemas, the largest private movie-theatre operator in the UK, and Servoca Plc, a leading provider of staffing, recruitment and outsourcing services.
Clearly, VoIP is a solution that works for firms of all sizes, from micro-businesses to substantial enterprises that run transportation for one of the largest cities in the world. But to many 8x8 customers, the international presence of 8x8 is old news. They've been using the company's services for years to take their own U.S. businesses international.
8x8 Business VoIP Pulls Offices Together—Around the World
For example, Shevantha Abeyasekera, who works at NextGen Packaging, says that his company has long used 8x8 communications to tie together offices and teams that are literally half a world away.
"What I love about 8x8 is the fact that they are taking global communication head on and are excelling at it very well," says Abeyasekera. "As an employee of a company that is highly globalized, with operations across the world, we have been able to use 8x8 across continents effectively—namely between the US and Hong Kong. We have found that the desktop 8x8 client is the best at this, providing us crystal clear call quality with a very easy interface."
Quick Expansion with VoIP
Many business people have found that 8x8 VoIP business phone service allows for quick expansion, and as the US recovers, they're able to open up new offices quickly and inexpensively, following fresh opportunities.
"We use 8x8 VoIP to quickly scale up to new offices around the US and the world," says Joel Harding, China operations manager at Iris Data Services. Explaining the cloud-based service's ability to tie offices together, he says that "Conference calls are particularly quick and easy to use."
Noelle McEntee, director of sales and marketing at Authentic Voyages, agrees. "It allows our team—based out of our home offices in Hong Kong, Lima, Dallas, and New York—to talk with our clients as effectively as we would in an office together," she says.
Support International Travel with 8x8 VoIP
And, adds McEntee, 8x8 business VoIP supports international travel particularly well, bringing together a mobile workforce even as they're globetrotting. "Checking voicemails while in airport security, making calls while grabbing our afternoon coffee, and having team meetings without poor connections—these are just a few of the things that tie us together."
That so many businesses are using business VoIP this way—even in small and medium-sized businesses—is a testament to the advancement of the technology. Often, VoIP is not only the least expensive technology, but the most reliable and practical one available to businesses that don't want to be forced to rely on an army of consultants.
"We have several people that work in remote locations, one of which is in the Dominican Republic," says Marcellete Donato, a project manager at Coastal Consulting Services. "Prior to getting her an 8x8 phone, we had a very hard time connecting with her because of dropped calls, static, no connection etc. Since we configured the 8x8 phone line, we've had zero technical issues!"
So as VoIP expands its global reach, businesses everywhere will continue to turn to cloud-based unified communications to power their international expansion. And the army of 8x8 road warriors and boundary-bending businesses that employ them will only grow with time.