8x8 Business VoIP Minimizes Disruption During Relocation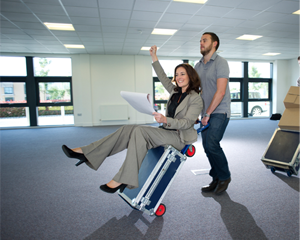 We recently began a series on the problems that face emerging businesses, and how business VoIP can help.
Topics covered in this series include:
Today we continue it by looking at the problem of minimizing disruption due to moving or expanding offices.
Small Business Problem: Moves and office expansion can disrupt businesses, resulting in downtime, outages and customer service lapses.
As an old boss once said, "One move is worse than two fires," and he's right, in terms of disruption.
Solution: The flexibility and mobility of business VoIP solutions also allow for easy relocation when more space is required, since turning phones on and off is much easier than installing new lines or messing around with a PBX system.
"When we moved our offices, the idea of having to 'start over' with a new phone system was overwhelming," says Dave Spetrino of Plantation Building Corp. "But the next morning, our phones arrived. We were 'up and operating' in a few minutes and the ease and ability of customizing our preferences online was unbelievable."  Also, with business VoIP, every person in a company can communicate via softphone, mobile device or desktop computer. With mobile and computer access, downtime is drastically reduced and largely unnecessary.
Visit 8x8 to learn more about business VoIP solutions to fit your company's growing needs.