Business VoIP From 8x8 Maximizes Remote Worker Productivity for Growing Businesses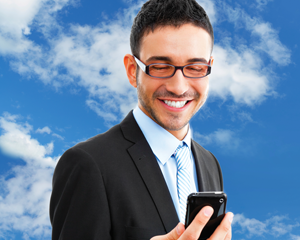 Yesterday, we began our series on the problems that face emerging businesses by focusing on how business VoIP can help small companies look larger. Today, we continue it with a look at how business VoIP can help tie together mobile and remote workers, to maximize productivity, give them access to all the capabilities they'd have in an office, and still present a unified, professional front to the world.
Small Business Problem: Mobile and remote workers need the flexibility to work from anywhere.
Solution: VoIP systems let employees work remotely, both when they're traveling and when scary weather indicates the need for a work-from-home-day. Employees' systems can easily access a VoIP system from a desktop computer or mobile device and fulfill their tasks even when they can't be in the office.
"8x8 has provided me with a mobile office," says Allan Gluck, formerly Director of Operations at the ETC Foundation. "I can be reached anywhere, whether I take my IP phone with me or use the app on my Android. And, the international rates that I can access using that app on my smartphone save me more than the monthly cost of the line!"
For many small companies, just being able to work when and where the opportunity arises lets them use all available talent. And sometimes, it means that when life changes for employees or owners, business can still go on as usual.
Michael Coop, owner of his own agency, recently reported that shortly after transitioning to business VoIP, one of his key staff members learned that her husband's job was transferring to a location about 90 miles away.
"My employee had worked for me for 28 years and I certainly didn't want to lose her," he says. "By using a remote desktop and VoIP, we were able to seamlessly arrange for the employee to telecommute," says Coop. "It works so well that most of my clients don't even realize that she isn't in my office when they talk with her. Were it not for 8x8, I would have suffered a significant loss of talent and experience."
So if your workers need to work from home or from a remote location—occasionally or all the time—business VoIP is a great way to tie them together so well that customers might never know the difference.
To learn more, check out www.8x8.com.