When the Weather Gets Tough, the Tough Turn to Business VoIP
How much patience would you have if you couldn't reach your insurance agent for more than 45 days?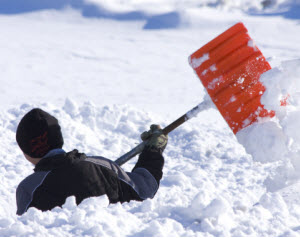 That's the nightmare scenario for lots of insurance agents, whose first business priority after a natural disaster is to handle the claims of affected locals.  And while digging out and recovering from a natural disaster can be a true test of survival for any business, what if your business depends on being able to help others precisely when you're most likely to be hard-hit, too?
For many insurance agencies and other businesses that need to recover quickly so they can help their clients deal with the economic consequences of a natural disaster, cloud-based business phone systems using voice over Internet protocol (VoIP) are proving to be part of the answer.
Cloud-based Business VoIP Helps Insurance Agents Avoid Nightmare Scenarios
Some agents still remember how hard it used to be to get phone service after a disaster—and how their businesses suffered in the wake of storms and other calamities. But business VoIP is changing that.
"Before I had cloud-based phone service, my insurance agency was damaged by Hurricane Ike, and the day after the storm, customers who called in to set up their claims heard a recording that said 'This number is no longer in service' for 45 days after the storm!," said then-VP at Allstate Insurance Sean O'Donohoe. "If I had had cloud-based service before the storm, everyone could have taken the phones with them, and we could have been in constant contact with our customers!" O'Donahoe has since moved to business VoIP.
Business VoIP Proves the Power of the Cloud to Overcome Disaster
That's the thinking of Susan Taylor, owner and manager of Houston-based insurance firm Craig Insurance Agency.
"Being on the Gulf Coast, it is important for us to give service to our customers in the event of a Hurricane or weather event," says Taylor. "With our business VoIP system, we can literally pick up our telephones and hook them to a computer anywhere, or use our cell phones, and we are back in business. A phone call never has to be missed.
Convenience and Savings Come First for Most Businesses
For many like Taylor, disaster recovery was not top-of-mind when he chose a cloud-based system; he was looking for flexibility, ease of use, and the cost savings that come with a cloud-based system—such as no equipment or maintenance costs, consultant fees, PBX closet space and monthly price breaks due to the economies of scale that the cloud offers.
Business Continuity is Often a Hidden Cloud Benefit—Until Disaster Unveils It
But, she says, "It was the best decision we've made about our business's phone service."
In particular, she says that the same cloud-based features that make business VoIP systems great for disaster recovery and business continuity are very convenient for day-to-day mobility and freedom to work from anywhere.
"I work away from my office at times and the fact that I have an application on my cell phone, so if I am at home or on the road, I can call a customer and it looks like I am calling from my office," says Taylor. "I can receive all of the calls made to my office on my cell phone. My staff can call my extension and it is delivered to my cell phone as if I am sitting in my office. You never have to miss a call. The service is amazing, and changing greetings, voice mails and being able to record calls if needed is a bonus."
In the pre-cloud days, a major problem for insurance agents after a disaster was re-establishing business communications, in part because the local service provider or premises-based PBX was likely have to be affected by the same disaster as insured clients. Also, temporary relocation was also necessary, and phones, faxes and desktop systems were designed for on-premises use.
'Go Anywhere' Convenience Doubles as Disaster Recovery Help in a Crisis
In the Cloud Era, faxes can easily be received and read on cell phones, business VoIP phones can be made to ring on either portable business phones—where workers just plug their phones in at temporary quarters—or to smartphones. This lets even dispersed workers who might not even be able to reenter the affected area to continue working. And because these workers already take advantage of the ability to essentially "take the office with them wherever they go," they already know how to get things done when they're away from the office.
And that, as any business owner who has had to dig out from disaster knows, working communications can be a godsend that makes the difference between recovery and ruin. Learn more about how business VoIP and the Cloud can provide your business communications with a little extra insurance.