Business VoIP Helps Manage Unified Communications in Extreme Weather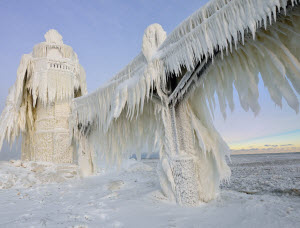 If you've been thinking that the weather has been unusually tough on business these last few years, you're right. Extreme weather events are costing businesses nearly $200 billion a year during the last decade, according to a recent World Bank report.
Now, a lot of people would throw up their hands and say, "What can you do about the weather?" Not TMW Systems' senior execs, led by TMW IT director Ron Godine's team. They decided to plan for it, with business VoIP (Voice over Internet Protocol) solutions that could keep them communicating even in the worst weather. Because in an outage, good communications can help, but broken communications can isolate people from help and turn an outage into a true disaster.
2010 Ice Storm: A Tipping Point for TMW's Unified Communications Strategy
The transportation management company had grown so fast—acquiring five new software companies in six years—that it had been making do with a patched-together, sort-of unified communications system that nobody fully understood. Ron says that's why the company was already rethinking its Cisco hardware-based unified communications strategy when an ice storm hit the company's Cleveland headquarters in 2010. The emergency generator came on, then conked out again when a cooling hose for the emergency generator broke, taking down the company's entire unified communications system.
TMW Takes Back Control with Business VoIP
Never again, TMW management resolved. They decided to implement a cloud-based solution for faster disaster recovery. So in 2010, TMW honored us by selecting 8x8 Virtual Office, a business VoIP solution.
"One of the primary reasons we chose the 8x8 solution was the built-in disaster recovery capabilities it offered," Ron says. "There is no longer one single point of failure in our business phone system because the 8x8 service architecture offers multiple redundancy and rerouting capabilities. Plus, if there's a power failure or Internet outage, our employees can simply unplug their phones, plug them into their home network and continue interacting with customers as if they were still in the office."
Managing for Extremes Has Everyday Advantages
And it turns out that managing for extreme weather has everyday advantages, too. The successful 8x8 rollout of business VoIP has eliminated TMW's capital equipment lease and replaced it with a cost-effective monthly service charge.
Business VoIP Makes Other Things Easy, Too
8x8 also provides business VoIP features that users did not have before, including single-number reach, a voicemail box for each user, and softphone capability for everyone. In addition, users can directly manage their own services and settings through 8x8's Virtual Office online portal. And new employees are now easy to provision, and don't require additional infrastructure, special licensing or multiple management tool configurations.
Unified Communications Solve Multiple Problems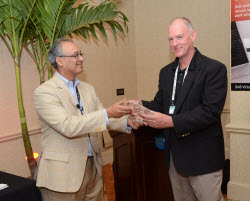 Smart managers—like Ron and the TMW team—know that the best solutions solve multiple problems. They showed great insight by picking a business VoIP solution that not only handles brutal weather, but uses the Cloud to eliminate a lot of the routine hassles they'd had with their previous unified communications hardware.
We also congratulate Ron and his team on their recent Cloud Communications Innovation Award at Enterprise Connect 2014. We sincerely hope that you never have to cope with a repeat of the 2010 storm! But if you ever do, we'll be honored to help.