8x8 Business VoIP is Gaining Fast on Traditional Providers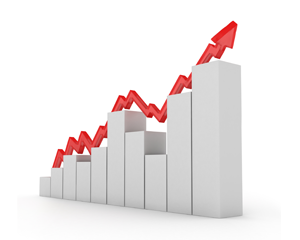 There's an old traffic-school one-liner that goes, "You know that red light you just ran?—Don't look now, but it's following us."
Well, if you're 8x8's competition, that light in your rear view mirror might just be the little red logo of hosted business VoIP provider 8x8 which, according to Infonetics Research's latest North America Business VoIP Service Leadership Scorecard, rocketed from fourth place last year to a photo-finish second in 2013, "on the heels" of first, as Infonetics Research put it.
Financial Stability, Growth and Service Enhancements Are Keys to 8x8 Success

Infonetics also says that 8x8 business VoIP made a "big leap this year thanks to improved financial stability, continued growth of its installed base and a focus on service enhancements."
In addition, other recently released information from Synergy Research Group shows that 8x8 also continued to hold the lead position in the high-growth unified communications as a service business suite market in Q4 2012, maintaining a market share lead of five percentage points over its nearest trailing rival.

Where New Business VoIP Customers Come From
Business VoIP is hot as a turbo, and 8x8 is riding it to overtake the traditional players. 8x8's own survey of its new customers at the end of January 2013 shows that more than a half of them (57.4 percent) come from the old-style phone and cable companies.
As Fox Business News commentator Charles Payne recently put it, 8x8 is "taking business from everyone."
Why Companies Switch to Business VoIP
Many customers say their companies came to 8x8 for cost savings, but then fell in love with the additional flexibility and extras that 8x8 business VoIP offers."I'm paying less than half of what I was before and I have a lot more features," says Scott Paton, owner of Paton Professional. "I especially love 8x8's iPhone app, which allows me to take calls while I'm out of the office."
8x8 Business VoIP Provides Flexibility to Do Business Anywhere
Part of the allure of business VoIP is its portability and the flexibility it offers small business to change when business does.
"I had a business in Maryland and switched from Verizon to 8x8 about 4 years ago, not just for the cost savings but the features such as Outlook integration and voicemail-to-email," says Frederick P. Birks, head of his own CPA firm by the same name. "The service was fine and got even better with the newer HD voice phones."
Then, his business changed, and the family decided to move to Colorado. It was then, Birks says, that he realized yet another advantage of 8x8 business VoIP—easy portability. The same technology that makes it easy to do business while on a business trip, makes permanent moves and expansions seamless, too.
"We faced the hassles of selling our home and moving our stuff, but the easy part was moving the business, thanks to 8x8," says Birks. "I just plugged my Maryland phone in to my Colorado modem, and I was up and running with the same phone number."
Multiple Locations United Under One Business VoIP Phone System
8x8 business VoIP helps unite multiple offices under one phone system. "We are a start-up business with four offices in four different cities," says Tim Sheridan, Managing Partner at IGA Physicians Services.
"Before we found 8x8, we were using AT&T and had no way to manage our calls, route between offices, track call logs, etc. Now, with 8x8, we can do everything the most expensive of phone systems can do at an extremely low price," says Sheridan.
Business VoIP Growing at a Stunning Rate
But while it's interesting to focus just on the carrier race, the larger story is that while business VoIP market penetration is still less than that of traditional carriers, it's growing at a huge rate, and might well overtake non-hosted, non-VoIP systems sometime this decade. The same Infonetics report mentioned earlier also says that "The number of seats for hosted business VoIP and unified communications services is on track to more than double between 2012 and 2016."