Enterprise Megatrend: Business VoIP Makes Cloud Integration Easy and Accessible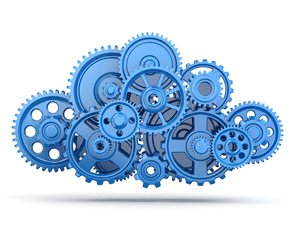 Last year at the Enterprise Connect conference, many of the panels discussed the adoption of cloud-based services, particularly telecommunications. Already, it was clear that it's only a matter of time before enterprises—like our business VoIP subscribers—start first to explore, then to demand, that their cloud-based services are integrated with each other and work seamlessly.
2014 is already shaping up to fulfill that prediction. Increasingly, our customers are telling us that integrating their communications with other key enterprise software and functions is the key to their continued success and expansion, and business VoIP is helping them to achieve it.
Business VoIP Helps With Two Crucial Types of Integration
Enterprise customers are looking for two types of integration: They want all of their communications services—phone service, fax, chat, meetings, and customer-facing communications such as call centers and contact centers—in one unified communications and collaboration (UC&C) package that supports their specific needs.
And they want their UC&C service to work seamlessly with other types of services, like CRM, so they're choosing UC&C solutions that interoperate well with other popular cloud-based services such as Salesforce.com and NetSuite.
Business VoIP Brings CRM and Call-Center Integration to Midsized Enterprises
Consider, for example, Merchant Warehouse's Paul Vienneau, who says his company had two big reasons for choosing 8x8 business VoIP for his company's UC&C—and both of them were integration. First, they wanted "all communications services under one umbrella, delivered seamlessly and securely in the cloud to all of our employees on whatever device they happen to be using."
And like any great CTO, Vienneau wants to increase productivity without placing a drag on his IT organization. Having an integrated UC&C service that handles everything from phones to meetings to customer service (with a Virtual Contact Center) "will result in tremendous productivity gains across our entire organization as employees will be able to work more effectively when they are not in the office and our IT staff will be able to focus resources on our core business rather than our phone system," says Vienneau.
But Vienneau also wants the productivity gains that go with having cloud-based services work together—the second type of sought-after integration. He recently told us that a big reason for moving to 8x8's UC&C service is that his company "values the 8x8 solution's integration with Netsuite, which we are currently migrating to for our enterprise CRM platform, as well as the quality and workforce management capabilities of the contact center offering and the solution's built-in disaster recovery capabilities."
Many of our customers are now saying they prefer their customer communications to be an integrated, natural part of their communications systems, but they also want the power of specialized functions to help them manage and monitor those customer communications. They love the fact that 8x8's unified communications services suite includes Virtual Contact Center, which of course leverages the powerful capabilities of 8x8's phone, chat, Internet fax, and online meeting services. They want all of their UC&C functions to leverage the information in their CRM systems, and they want everything to work with the business VoIP service they already use in all their other operations.
Business VoIP Brings the Power of Cloud Service Integration to Midsized Enterprises
One of the most interesting things about the increasing demand for integration is that the growth in interest is coming from midrange companies, not just billion-dollar companies with armies of integrators at their disposal.  Now that cloud providers are integrating their services, even midrange companies can get services that integrate with each other almost from the moment they become subscribers. Many of these integrations are with other cloud-based technology platforms, which leverage the power of the Internet from both a feature set and a speed-of-deployment perspective. I think this is one of the most important emerging trends we will see throughout 2014, and I will be addressing these issues next week in a presentation at Insight's Cloudcast'14, a cloud conference and technology expo.
Business VoIP Integration with CRM 'Critical' to Enterprise Success
For some enterprises, CRM integration is a must, and companies have many ways of exploiting it. Many companies use it to cause customer information, including the customer contact history to pop up on the screen when the communications system recognizes the caller's number. And if it's not already in the CRM database, it can be created, capturing the current information for later use by the CRM system.
For others, CRM and unified communications can be used to interface with other corporate systems, such as time tracking. "The integration with our 8x8 business VoIP system and our NetSuite management solution is critical to our success," explains Kyle Allen, systems engineer at WTI Systems, a solutions provider for government, non-profit and education markets. "We rely on this integration heavily to track calls and time," says Allen.
Enterprises Pull Off a Customer Relations Coup with Business VoIP
Many companies are finding that it's a huge customer relations coupe game for their agents in sales or customer service to able to immediately see all previous customer contact information—provided by CRM systems—when they're in contact with customers. Such information can be used for support, upselling or cross-selling.
It's just possible we're seeing the beginning of an integration wave like the one that put ERP (enterprise resource planning) deep into the core of many companies' operations in the late 1990s and early 2000s. Only this time, the integration will be something that the hosting companies do in the Cloud, and will not require huge, expensive armies of consultants, the way ERP integration did.
This time, the integration will be available to thousands more companies, because they won't have to do it themselves. Good cloud-based services companies will just handle it and include it in their services, and all that smart businesses will have to do is learn to exploit their new capabilities. For many business VoIP users, it will mean a competitive advantage that will help them become the successful large enterprises of tomorrow.