How Business VoIP From 8x8 Can Help Small Businesses Handle Increased Call Volume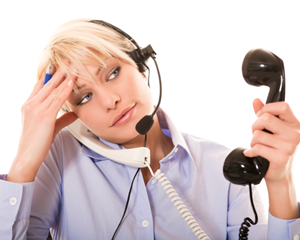 Yesterday we shared how business VoIP provides flexibility and accessibility for mobile and remote workers. Today we continue our series on the problems that face emerging businesses by looking at the problem of keeping the phones covered as business grows. Business VoIP can help, with the best systems letting you route (or reroute) your calls on a moment's notice, and set up rules for who gets different calls based on expertise or time of day. Some even provide more advanced capabilities that let companies manage their own call centers, either for sales operations or for customer service.
Small Business Problem: Small staffs sometimes have trouble covering increasing inbound calls.
Solution: Adding more headcount just to cover phones is often impractical. A more streamlined way to handle inbound calls is required, and hosted VoIP fits the bill. VoIP for business can also include the advanced assistance that a virtual call center can provide.
"I love the fact that all of my employees have their own voicemail and direct numbers to their offices," says Erica Jean Kopcznski, CEO of Timeshare Real Solutions. "This eliminates the cost of a secretary!"
Features like the auto attendant—an automated receptionist that can route your calls for you—allow your company to be more efficient and project a professional image. Callers to your main number hear a professionally-recorded greeting (For sales, press 1, For the company directory, press 2, For directions and business hours, press 3, etc.) and can self-select the department or person they wish to speak with. This saves both time and human resources.
Jason Walsh, VP of Sales and Merchandising at Mode Distributing, agrees. "We recently started a luxury appliance distributions system. We are a young aggressive company with the technical savvy to know that receptionists are not necessary in a small office environment," he says. "We now have integrated control of our communications and can efficiently grow our business to multiple times larger knowing that the system we run will allow us to move forward at a rapid pace."
Switch to business VoIP and let your communications system grow right along with your business. Visit 8x8 to learn more about business VoIP solutions to fit your company's growing needs.