Business VoIP Brings Family Home for the Holidays—And All Year, Too!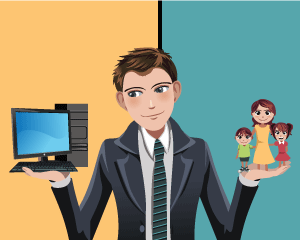 The holidays are a time when most people think about being with family and close friends. Just when you think you've seen everything in the testimonials department, you run into something like this apparently happy business VoIP customer, who did not leave his contact info, but rather a cryptic message:
"8x8 saved my marriage. Now I have three children. Thank you 8x8."
Does Business VoIP Really Save Marriages?
We are not, as Dave Barry says, making this one up. Now, since we can't verify authenticity, it's possible that someone was pulling our leg. And we're definitely not sure that we can take full credit for those three presumably adorable children.
But one thing this email has in common with many emails that we have been able to verify is this: Business VoIP—communications such as phone service and meetings running over the Internet, or Voice over IP—helps people spend time with their families, while still taking care of their careers and business obligations.
Telecommuting Helps Mom Focus on Work AND Parenting
Julie Seledic, who works for Delta, told us that business VoIP has "given me something back in my life that I have not had for almost 17 years, and that is time off with my family." She explained that having a two-to-three-hour commute had really taken its toll on her family, particularly her son. "Because of business VoIP, I can now work from home. I started two months ago, and it has made a huge difference in all of our lives. I have been able to make almost all of his football and hockey games since working from home, and I've been more connected with his schoolwork and teachers than ever before. I can now even spend time with him every morning before he goes to school."
Even Julie's husband has also commented on the difference. "He has really noticed how much more I am 'connected' to everything here at home," she says.
Grandma Goes International and Manages Career, Too
Peggie Shore, a production manager at Direct Response Products, took business VoIP's flexibility one step further, writing that she used the technology to spend six weeks in Germany visiting her daughter and her family and putting in full days at work. "I can work from anywhere in the world!," she writes. "I worked the entire time. I spent days playing with the grandchildren and worked in the evening. It was like a vacation in a different country without taking time off! In my opinion, that's a win!"
Dad Juggles Family and Work Too
But it's not just moms and grandmoms who appreciate the flexibility of business VoIP; so do dads.
"8x8 allows me to spend more time with my family while meeting deadlines and staying in touch with my dealer network," says Greg Kowalsky, a project manager at CST Storage. "Life is full of challenges, and the one of the biggest is balancing work and family. With six kids, my hands are full. 8x8 allows me to meet the challenge head on."
Six kids is definitely what our QA department calls "stress testing," Greg.  Glad that business VoIP could help out a little, but again, we can't take full credit. We can only imagine how awfully hard you must work, in and out of the home.
In the end, what business VoIP helps with is creating the flexibility where individual entrepreneurs and business people can find their way over and around the barriers of time and geography, and make the homes and careers they've always wanted and envisioned. And that is reason for celebration during the holidays.