Business VoIP From 8x8 Blows Talent Market Wide Open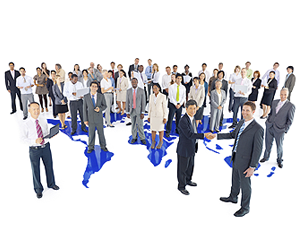 "Thank you for changing my life, I'm forever grateful."
Have you ever gotten a letter that just blows you away with its emotion and insight?
We did recently, when we invited our customers to write about the things they love most about 8x8 business phone service. There were hundreds of responses, but this one, from Nancy Metternick, who works for an insurance company, really stood out: "I live in a high unemployment state. 8x8 VoIP has provided me an excellent opportunity for financial growth with a company in another state. Using 8x8, I can be a productive member of a team that I have never met in person. Without your business phone service, I'd be unable to provide for my family. Your Virtual Office phone service enables me to run a business from the comfort of my computer that I could not have ever imagined possible. Thank you for changing my life. I am forever grateful."
Wow! "Changing my life" and "forever grateful" are pretty rare accolades outside of church pews, and it got me to thinking about the flip side of the coin, too. From the perspective of the businesses that can finally employ the Nancys of the world—no matter where they live—business VoIP phone systems, such as those that 8x8 provides, are a total game changer. The ability to employ skilled workers who work far away is a huge equalizer, helping even small businesses compete with the Goliaths of the hiring world.
Think about it: Great employees are hard to find.  And if you're doing business in a small town, far away from big metropolitan areas where there are lots of workers, your talent pool may be limited—especially if you are looking for employees with specialized skills. But having a reliable, affordable business VoIP system allows you to unite all your employees under the same phone system so that their physical location is irrelevant. Suddenly you can afford to hire employees almost anywhere. Talk about leveling the playing field! 
Just how irrelevant location is becoming was driven home to us by another customer comment, this time from Jesse Hormachea of Hatton Point, a provider of custom business software solutions.
"My company started using 8x8 services a couple months before I took a six-month trip to Chile," says Hormache. "I was able to log in and use 8x8 from my web browser and iPhone, and never missed a call to my desk. I worked full time while traveling through the whole country," he adds.
Let that sink in a minute.  Jesse worked full-time at a U.S. job while traveling in Chile!  Underscoring the new options opening up to VoIP business phone service users, he writes, "This would have been impossible on our old phone system. My clients and peers never saw a drop in productivity, as most of my work is done remotely for clients."
Of course, VoIP-based business phone service isn't new.  Perhaps what has changed is that virtual PBX VoIP service providers such as 8x8 have gotten their systems to perform so flawlessly that managers and workers alike feel almost like the rest of the company is just down the hall.  It's one thing to say that you are essentially a "hosted PBX," but it's entirely another to set up ring groups so that calls can be routed to people in different states or sometimes—even in different countries—so that it's virtually undetectable by customers.
In some cases, this seamless virtual office capability can even save a job, according to Kookie Taylor of VB Teaching Tools, who writes: "Our family had to relocate to England last year for my husband's work. I loved my job in Houston and was very sad to have to leave after investing six years there. Thanks to 8x8 I did not have to leave it!"
As she explains, "8x8 enables me to live in England and still serve our customers with the products they need and the personal customer service they deserve," adding that "It's a great tool for small business!"
Worker Loyalty Easier to Win
Also, as Nancy's email underscores, if you're a business owner or manager, your potential employees already recognize how life-changing it is to be allowed to telecommute, and they tend to be extremely loyal—both to 8x8 and to the employers who have the vision to hire them.
And as I looked through some of the other customer responses, I found others who expressed almost the exact same sentiments, such as this one, from an employee who had previously not been able to telecommute because of the artificial boundaries of local calling service. "Unfortunately, I live in rural Minnesota and was outside the local calling area of our office so I could not participate in the Work at Home program," writes Susan Hanson, an airline reservation agent. "When I heard about 8x8, I was so excited! I have been using it for just two weeks and it has truly improved my life. I no longer need to commute 40 miles to and from work. I am so much happier," she writes.
Once they're on the job, employees like Susan and Nancy are highly likely to go the extra mile for such employers, even outside of normal business hours. An estimated 88% of executives worldwide now report employees are using their own personal computing devices for business purposes, and 58% of respondents added that the top two benefits were the ability for their employees to work from anywhere, and their employees' increased willingness to work after hours.
They don't do it because they feel forced or without options; they do it because it's a win for everyone.  As Nancy wrote in her email, "I may be a small client (of 8x8), but I feel I could conquer the world with the personal and professional accomplishments 8x8 has made possible."
If you want to be the next employer with the vision to find and hire someone as dedicated and as loyal as Nancy, Kookie, Jesse or Susan, call 1-866-TRY-VOIP or learn more about our business phone systems. We can show you how.