Business Metrics Transparency for Better Customer Experience
Business Metrics Transparency for Better Customer Experience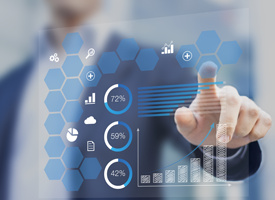 This is the second in a three-part series on developing an effective customer experience strategy.
Once an organization has improved the contact center knowledge and capabilities of its agents to improve customer experience, the next step is to work on Transparency of Business and Technical Metrics. As processes are reviewed and improved, it makes sense to understand the degree of intelligence available from an organization's data sources.
Why? Because without business transparency it is almost impossible to move the dial on customer experience! These metrics include data from contact center and customer relationship management ("CRM") systems as these are primary customer touch-points. The metrics should also include supporting systems that may be leveraged for behind the scenes activities. These can be technical system metrics but they can also be metrics associated with manual  business processes.
The degree to which a customer experience leader has transparency into the metrics associated with customer interactions and back-office processes and systems, will determine how impactful, or more often how subtle, improvements can be accomplished. This may sound obvious but business leaders should take a moment to analyze the reality of this situation in their own business. How easy is it to:
Identify trends?

Understand where workflow blockages exist?

Communicate back office data to front office customer-facing personnel?

Easily expose knowledge workers (specific experts) to customers through front-line agents?

Know when work needs to be reassigned?

Manage volume of business fluctuations nimbly?

Increasingly, gain visibility to remote worker activities and metrics
Where to start though? Each organization must start by determining its "one version of the truth." Without this, transparency is subject to differing viewpoints and disconnected metrics. This doesn't mean rushing out to purchase a CRM system and spending the next twelve months focused on such a major project. Rather, it means getting to grips with where the data is that touches the customer experience and visualizing that data. In addition, tying contact center systems directly into systems of record can be beneficial but ideally, they should be tied directly into the "one version of the truth" so that data collected about each customer interaction can be directly correlated to the customer experience and the overall customer journey.
Having determined the "one version of the truth," it is necessary for customer experience leaders to map the customer experience touchpoints that underpin management of the customer journey. In terms of the steps to take, again, there are different approaches. Some organizations will adopt a "channel-based" approach and list how customers interact through web, social, voice, email, SMS or written correspondence. Others adopt a customer lifecycle, or "journey" approach. This often depends on the degree of customer churn in an industry or complexity of the customer interactions with an organization. Others create phases, or stages, of customer consciousness of the business. How a business does this depends largely on the type of business.
Don't worry there is plenty of help available with this step. In fact, a Google search of the expression "customer experience touchpoint mapping" provides countless images that present CX mapping visually and present ideas to do it yourself. If professional assistance is required there are many consultants that are familiar with CX strategy who can help, or one of the many CX-oriented companies that focus on creating imagery or graphical representations of the touchpoints. Other companies provide research and analysis based on a plethora of collected data points, from surveys and data collection, social media, consultancy and benchmark studies. Some organizations practice processes such as Lean Six Sigma but an outside-in approach may actually prove more beneficial to an organization even after application of such processes.
This activity greatly emphasizes the value of transparency of the information. Once the mapping is complete and armed with dependable data points, customer experience professionals will have a clear view of the customer experience, create a baseline for future actions, and focus on making improvements.
A business process can be introduced, or enhanced if it exists, at this point. This is the Knowledge Management System (KMS) that will help the organization create a continuous improvement cycle that plays into the customer experience map and business processes. The advantage of a formal KMS supports faster remediation of discovered issues with processes. As a baseline is laid out for how the organization behaves at each customer touchpoint, those following the guidelines can make recommendations to improve or fix issues that arise. These recommendations are validated, tested and once proven, released into the KMS to further enhance the customer experience.
In the third and last part of this blog series, attention will turn to technology and how having the right solution in place can both provide what the business needs and enable it to develop and continue to support a successful CX strategy.
Learn how the fundamental building blocks of customer experience strategy are being used today as well as which technology enablers provide the insight and oversight needed to adjust and administer the modern customer engagement team by signing up for my webinar, The 3 Must-Haves on the Path to a Better Customer Journey
Also learn the practical implications of shifting a contact center solution from on-premises to the cloud in the free white paper from leading contact center industry analyst Sheila McGee-Smith. In the paper, Contact Center as a Service: A View from the Trenches, McGee-Smith provides real-world examples from contact center managers that transitioned from on-premises systems to a cloud contact center.