Building a Dynasty—8x8 Named a Gartner Magic Quadrant Leader for the Sixth Year Running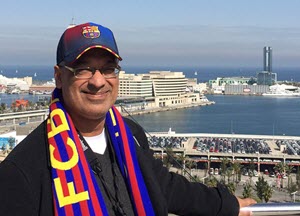 FC Barcelona is arguably the dominant global football (known as soccer here in the U.S.) club of the past decade, winning 25 major trophies since 2008. The powerhouse has built a dynasty with many regarding them as the best club ever. However, one thing has eluded FC Barcelona—they have never won the La Liga title (or any other title for that matter) six years in a row.
Dynasty. This is what we are building at 8x8. For the sixth consecutive year we've been named a Leader by Gartner in the Magic Quadrant for Unified Communications as a Service. Making it once into the famous upper right quadrant of this incredibly influential annual report is a huge honor. It requires a company to not only demonstrate an "ability to execute" but also a "completeness of vision." We've done it six years in a row, which indicates our staying power and ongoing ability to grow the business as well as innovate in a rapidly evolving market. And we're only just getting started.
I've made the pilgrimage to the cathedral of football—Camp Nou—and FC Barcelona's winning culture is highly palpable the moment you enter the stadium. Fans expect FC Barcelona to win and the club relishes the pressure to be the best. The club's attention to detail, ability to reload and upgrade with the best talent, such as Messi, Suárez, Piqué and Iniesta, field the right strategies on the pitch, and continually reinvent the game is what sets FC Barcelona apart from the competition.
Like Barcelona, we've assembled a world-class team to speed innovation in cloud communications, contact center and collaboration technologies that deliver measurable benefits for global midmarket and enterprise companies. On top of this, our global infrastructure delivers superior voice quality across the globe as cited recently by the Tolly Group. When you add it all up, 8x8 is the only all-cloud player with a true unified communications platform that can address midmarket and enterprise companies' communications, collaboration and customer engagement needs at a global scale.
I won't regale you with a summary of the 2017 Gartner Magic Quadrant for Unified Communications as a Service, Worldwide report as you can read it yourself. But keep watching this space to catch all of the 8x8 highlights from the upcoming 2017/18 season. We expect to continue winning because that's what dynasties do. We are working tirelessly to solve the biggest business communications problems that midmarket and enterprise companies face today, and we will not rest until we help them tear down their communications silos, so employees can run smarter and faster for a game-changing customer experience.
Lastly a huge THANKS to our team, our partners and our customers for making our vision for the industry a reality. We're excited and honored to be named a Leader by Gartner for the sixth consecutive year.