Build Contact Center Knowledge for Improved Customer Experience
This is the first in a three-part series on developing an effective customer experience strategy.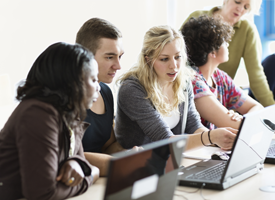 I once worked as a customer service representative ("CSR" or "Agent"). The on-boarding process included an aptitude test, interviews and a multi-week training course that covered company policies, business process and handling customer communications. CSRs were expected to handle telephone calls and customer correspondence with accuracy and care. I loved the work because I enjoyed talking to people and helping them through their problems. Almost weekly there was something new or slightly different that might come up. My team was enthusiastic with a mix of ages and a friendly competitive edge that helped keep the energy up throughout the working day. More than that, I was learning all the time about accounting, processes, technology and working within a team. I was young and self-motivated which worked well for me and the company that hired me.
I eventually became manager of the customer service team of over one hundred diverse employees, with a focus on running the company's new contact center. I quickly realized  that employee satisfaction and motivation had a direct impact on customer experience. Agents that were well trained, cared for, equitably rewarded, motivated and enthusiastic, delivered a higher level of customer service to customers. And a critical component for developing the best customer experience  strategy was making sure contact center agents continually worked on improving their knowledge. In fact, our contact center won industry accolades as best-in-class for service three years in a row. None of this would have been possible without the knowledge of our people.
Gaining knowledge began with recruiting the right agents. The aptitude test weeded out a range of applicants based on fundamental expectations related to basic math, use of English, and thinking ability. The interview process was designed with questions that would further filter down candidates to find the best possible employees for the company to deliver an excellent customer experience. Below are some questions a company can ask about its agent recruitment:
How closely aligned to the business strategy is the company recruitment process?
Is the process the same as it was five, or ten, years ago?
Should it be reviewed?
Agent churn (also known as attrition), training success and time to effectiveness are all indicators that can help determine if the company recruitment process should be reviewed. With millennials now firmly entrenched in the workplace, the agent recruitment process must consider how this group likes to learn, work and collaborate, and how well they will communicate with customers in a modern organization.
While millennials are the latest employee base, there are still plenty of Generation X and baby boomers out there fully capable of delivering a great customer experience. One thing they all have in common is that they need the right training and development. Questions to ask about a company's agent training are:
Is the company's current training plan still as effective as it was originally?
How often is agent training reviewed?
How is the success of agent training measured?
Can the level of lower performers be brought up to that of higher performers and maintain motivation? How is this accomplished?
The subject of motivation, often embodied in management productivity programs by Maslow's hierarchy of needs (the essence of which are the needs for life, security, love, esteem and personal growth), is broad. Each generation brings with it different core needs, expectations and interpretations of how those needs affect the work atmosphere. A common belief today, with the millennial generation firmly growing in the contact center industry, is that contact center leaders must consider the whole spectrum of the work experience for their agents, such as:
Agent workspace design and how they are deployed on the floor
Break and refreshment areas (and what is provided within them)
Relaxation or gaming areas
Easy access to information, such as an agent portal, for schedules and shift trades where available, etc.
Gamification (use of gaming ideas associated with rewards of varying ideas to create a friendly competitive performance environment) and influence on agents
Advancement opportunities and more
All of this remains a challenge for contact center leaders, and needs to be addressed correctly by the organization through understanding agent needs clearly. This might include programs that:
Seek agent feedback
invite agents to contribute to process improvement
draw agents into defining and committing to their own success criteria
Steps two and three of this blog series will examine Transparency, understanding data and using it, and Enablement, what technology is doing to help and the implications to both organization processes and strategy for customer experience.
Want to gain some additional knowledge on how your contact center issues stack up against industry benchmarks? View the on-demand webinar with Strategic Contact's Lori Bocklund to see why the Survey says "It's Not Just You": Top Contact Center Challenges & How to Solve Them
Also learn the practical implications of shifting a contact center solution from on-premises to the cloud in the free white paper from leading contact center industry analyst Sheila McGee-Smith. In the paper, Contact Center as a Service: A View from the Trenches, McGee-Smith provides real-world examples from contact center managers that transitioned from on-premises systems to a cloud contact center.