Branch Out, Move Up, Stay Connected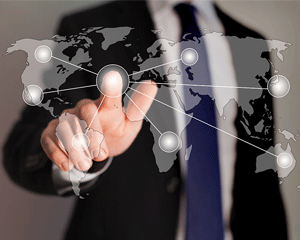 Managing branch offices is often a problem for expanding businesses. Until recently, your best choice was to have calls go to the main PBX and then transfer them to the other departments. Many businesses have long wanted to direct customers to the right branch or group directly, with a unique phone number, for more efficient call flow and a better overall customer experience.
8x8 Branch Office
Branch Office—an optional add-on service to 8x8 Virtual Office business phone service—now helps you segment your 8x8 virtual PBX into groups of extensions that represent physical or virtual branches of your company. The result?  Better caller experiences and easier, more efficient call management. Each branch has its own unique Branch directory and IVR script, for easy name/number search and branch-level presence management. You can also use the new 8x8 Branch Office service option with Virtual Office so that callers to the branch main number "zero-out" to the branch receptionist instead of the company primary headquarters receptionist. So, if callers don't like the options they're presented, they can press "0" and be sent to the branch or department receptionist, instead of the one at headquarters. Learn more about 8x8 Branch Office.
8x8 Switchboard Pro
Each branch can also take advantage of Switchboard Pro for simple software-based call flow management. Businesses now have a choice of tools to manage large call volumes and users' presence within their organizations or branch offices. In addition to recently introduced Polycom VVX sidecars, 8x8 now offers Switchboard Pro, an add-on service for Virtual Office users. You'll get a graphically rich, software-based switchboard app that greatly streamlines live call handling. Switchboard Pro also gives you at-a-glance visibility of the "presence" of each employee—either for everyone in the whole organization, or for a subset of workers at the branch office level.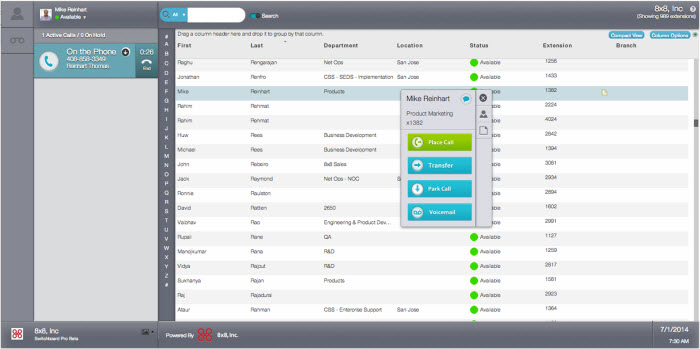 This browser-based solution works with your Polycom IP phone to manage sophisticated call handling features, including the ability to park calls at the extension level, the branch level, or for anyone in company to retrieve. You also get announced call transfer (warm) and instant (cold) call transfer with the click of a mouse, and more. Learn more about 8x8 Switchboard Pro. You can also use these capabilities to manage traffic for different auto attendants.
So now it's up to you how you divide up calls among branch offices, departments and headquarters. Use these two new tools to help manage your success, and to achieve even more as your business takes flight.