Better Sound Quality – Enterprise IP Voice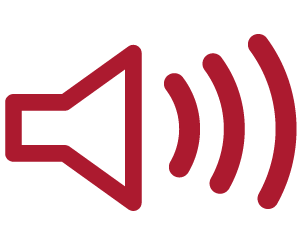 Yesterday GigaOm reviewed the sound quality that 8x8 is achieving with its Virtual Office services in concert with several new Polycom phones that we have been offering to our customers since November.  The article is included below.
High-Quality Calls with Polycom Conference and Desk Phones
I've recently reviewed several VoIP solutions suitable for web workers and small businesses. One thing has become clear: no matter how good the software, sound quality is of paramount importance. Of course, the quality of VoIP calls is affected by the quality and speed of the Internet connection, but VoIP providers have developed codecs that can squeeze decent sound from even small-bandwidth connections. So I've decided that, in a business environment, it's worth not skimping on the hardware.
Just about every business-oriented VoIP phone, and even many cellphones, come with a speakerphone these days. But such speakers are often poor, and using a poor-sounding speakerphone doesn't reflect well on our business. Since I spend most of my time typing on a computer, I prefer to use a speakerphone or a headset. Many VoIP services can be used with a softphone and a computer's speakers and mic, or with an ATA (an adapter that allows one to connect standard phones to the Internet). But I wanted to see how much difference a really good phone could make.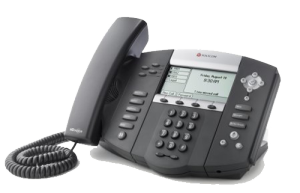 The folks at 8x8, whose Virtual Office Pro system I reviewed recently, kindly lent me a Polycom SoundStation IP 6000 conference phone, and a Polycom SoundPoint IP 550 desk phone.
The IP 550 is a slightly larger version of the IP 450 that I've been using with OnSIP. The 550′s sound quality, both in handset and speaker mode, is very good, but its multiplicity of features means that it has too many buttons to suit me. I'm sure that I'd get used to its layout eventually, but it's a bit overwhelming at first.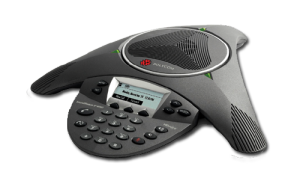 Polycom's triangular speakerphones are a feature of many conference rooms. The IP 6000 is intended for conferencing, and doesn't even have a handset, although I was surprised to discover that it doesn't take much more room on a desk than the 550 does. The manufacturer claims that it can pick up conversations from up to 12 feet away; I wasn't able to test this, but it certainly has a large range. It can get operating power from Ethernet (meaning there's one less wire on one's desk), or it can use an optional AC adapter.
The IP 6000 automatically adjusts microphone sensitivity as needed, and its speaker quality is outstanding. All in all, it's a phone that I could cheerfully leave on my desk for daily use, then take it with me for conferences.
8x8 sells both phones pre-configured for their service; it's just a matter of plug and play. The phones interact well with 8x8′s web-based software, or can be used on their own. Both have excellent sound quality, better than the Konnect phone I looked at recently, or the Cisco/Linksys SPA942 that I tried with the RingCentral service.
8x8 sells the IP 6000 for $729.99, and the IP 550 goes for $259.99. If you and your colleagues regularly participate in conference calls, or just spend a lot of time on the phone, the expense is well worth it.
What systems do you use for conference calls?